Fishergate Low Traffic Zone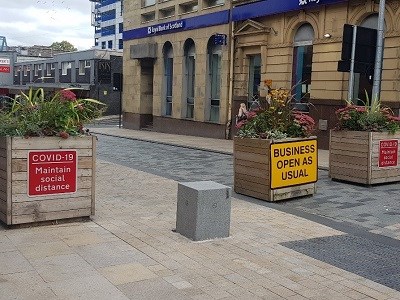 Lancashire County Council have been making some temporary changes to the road network in Preston City Centre to support walking and cycling as part of the emergency response to the coronavirus.

A number of temporary changes to traffic in the city centre have been made to help people maintain social distancing, and prioritise walking and cycling due to continued restrictions on public transport. These focus on closures to many side streets at their junction with Fishergate to create more room for pedestrians, along with pop-up cycle lanes to make cycling easier on some of the main routes into the city.
The following diversions have been put in place to accommodate pop-up cycle lanes, and to assist with keeping high streets safe by enabling social distancing:
Drivers can no longer turn left from Fishergate onto Chapel Street, with a diversion signed via Mount Street, Garden Street and Winckley Square.
Lune Street, Winckley Street, Cannon Street and Fox Street are closed to vehicles where they join Fishergate with diversions in place, and advance warning signs on approaches to notify drivers before they reach the closures.
Access to Theatre St is provided via a diversion if coming from Avenham which is; Guildhall St > Fishergate> Theatre St.
Anyone travelling by car across Preston during business opening hours is encouraged to avoid using Fishergate as a through-route and instead use alternative routes such as Ringway.
Some on-street parking on St Wilfred Street and Charnley Street is suspended to give more room for vehicles to manoeuvre due to the closure of the Fox Street/Fishergate junction.

Map of diversion route (PDF 1.2MB)