Dementia campaign
Overview
There are currently over 10,000 people in Lancashire who have been diagnosed with dementia, but it is estimated that the actual figure of people with the condition could be much higher. This means that thousands of people who could have dementia aren't accessing treatments and support to help them live well with the condition.
This campaign aims to increase the number of people with dementia who are diagnosed and get the right treatments and support at an early stage.
The target audience is 55-75 year olds and the campaign will focus on encouraging them, through their friends and family members to tackle memory problems.
The campaign will direct people to www.lancashire.gov.uk/dementia where they will find information and videos designed to help people:
identify worrying symptoms
find out more about the diagnosis process
start a conversation to encourage someone to visit their GP
We anticipate the campaign will increase awareness and knowledge of the signs of dementia, the help that is available and the benefits of earlier diagnosis for the patient and family.
The campaign has been developed by the county council and is supported by the Alzheimer's Society.
Support the campaign
If you are a health professional or partner organisation, please support our campaign however you can, for example by displaying our posters or sharing our messages on your social media channels.
Please download and use the campaign resources provided below:
Briefing note
An overview of the campaign for health professionals and partner organisations.
Print Resources
Social media
From Monday 14 March 2016, help us spread the word about our memory loss and behaviour change campaign on your online channels:
To download any of the following images to accompany your Facebook posts, select the image, then right-click and save as.
Facebook images
Use of images: The images in this toolkit must only be used in the promotion of this campaign and must not be used for any other purpose.
Plasma screen advert
If you need any further information about this campaign then please email saf.munshi@lancashire.gov.uk.
Campaign posters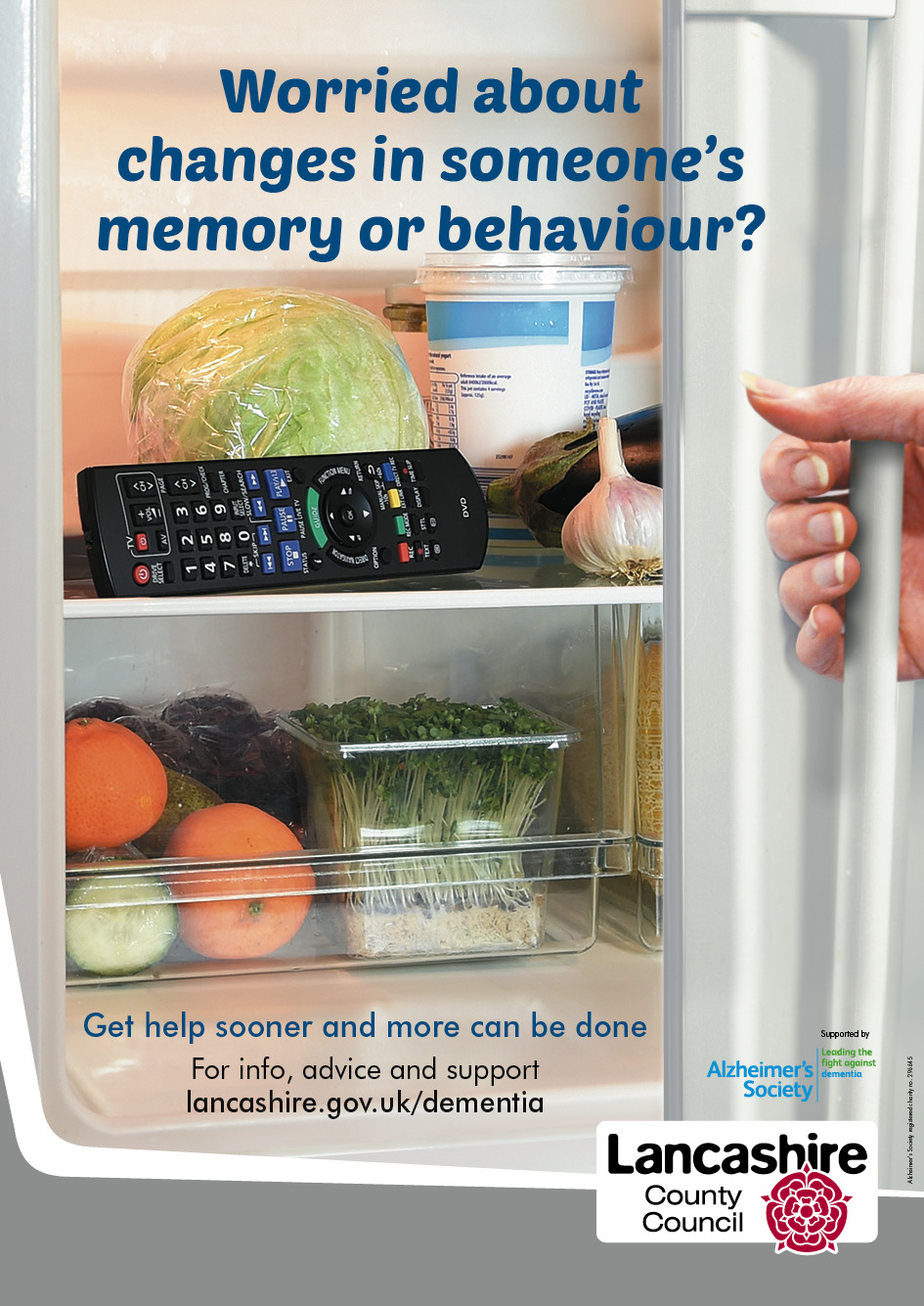 Click on the image above to enlarge
Download our campaign poster 
(PDF 729KB)