Breastfeeding challenge
Overview
With the breastfeeding rates in Lancashire being considerably lower than the national average, we have worked with representatives from the county's Infant Feeding Partnership to launch a county wide breastfeeding continuation campaign.
In an effort to normalise breastfeeding up to 6 weeks, the Six Week Breastfeeding Challenge Campaign will encourage mums who have already chosen to breastfeed to challenge themselves to continue for at least the first 6 weeks.
We know that the majority of women have a general understanding of the benefits of breastfeeding however many lack exposure to information or practical help on how they can overcome some of the obstacles they may experience in those early days of breastfeeding.
That's why we are hoping to encourage mums to download our FREE web app, which is simple and easy to use, so that mums can get the support they may need and log feeds on the go.
You can access the web app here: www.breastfeedingchallenge.co.uk
Support the campaign
If you work in healthcare or have regular contact with pregnant women and new mums, your role is vital in helping us spread the six week breastfeeding challenge message.
Please download and use the campaign resources provided below:
Campaign briefing note
 Print resources
Social media
To download any of the following images, select the image, then right-click and save as.
Use of images: The images in this toolkit must only be used in the promotion of the Six Week Challenge Campaign and must not be used for any other purpose.
Reward chart
Chart (for mums who don't want to sign up online)
If you need any further information about this campaign or would like to request printed resources, then please email: saf.munshi@lancashire.gov.uk
Campaign posters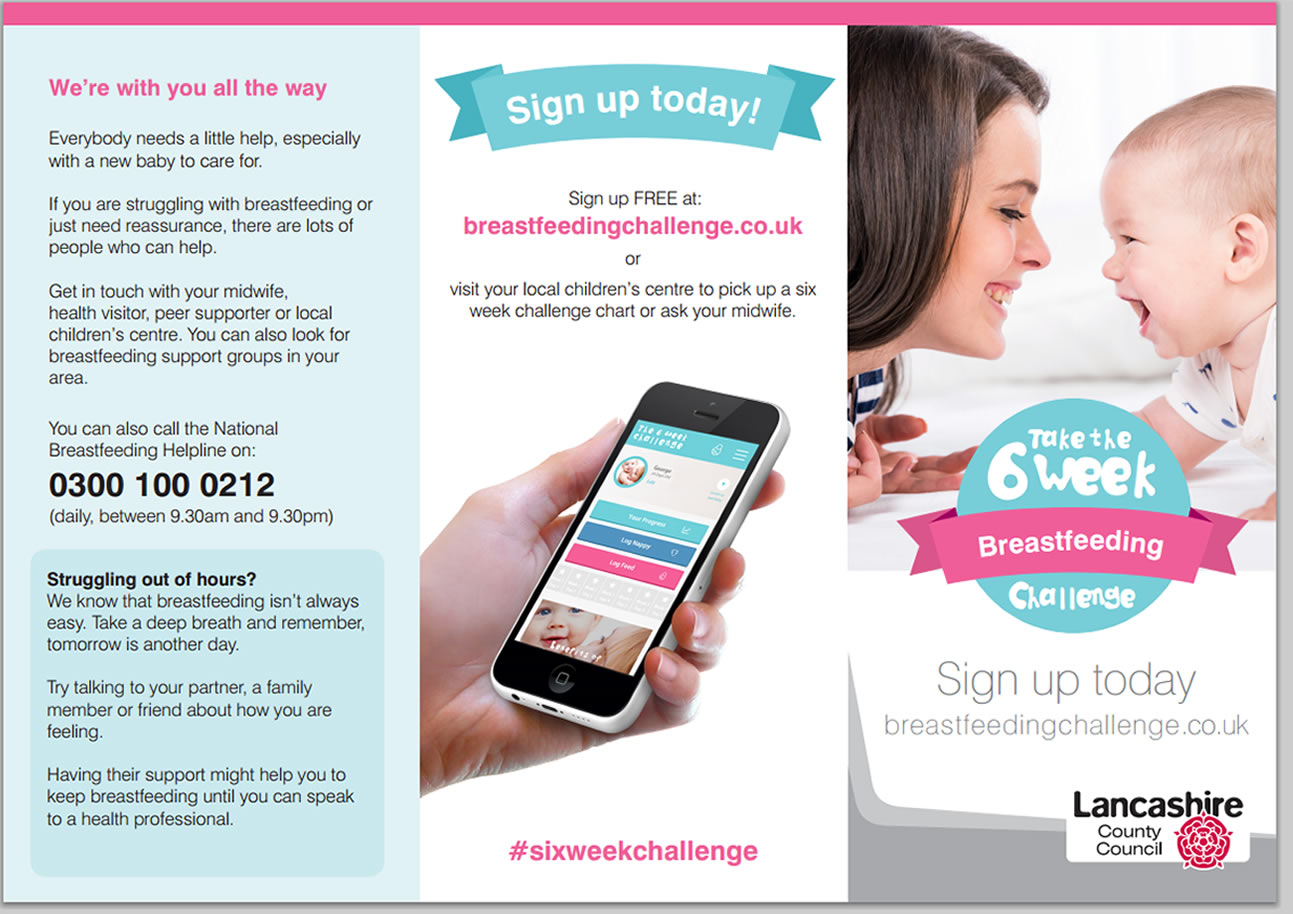 Click on the image above to enlarge
If you would like printed copies of any of the resource materials, then please email: saf.munshi@lancashire.gov.uk