PPE supplies
PPE Line Easter opening hours
Please can all providers ensure they have sufficient stock for the Easter weekend to ensure we can meet demand and avoid delays in deliveries on Tues 6th April.
Tues 30th March Open – deadline for requests before Easter by midday.
Weds 31st March Open for deliveries only
Thurs 1st April Open for deliveries only
Fri 2nd April Closed
Sat 3rd April Closed
Sun 4th April Closed
Mon 5th April Closed
Tues 6th April Open – Business as usual.
Tel: 0300 123 6786
Email: CareProviderPPE@lancashire.gov.uk
National online portal
(updated 10 June 2020)
Throughout May and June 2020, the Department of Health and Social Care have been inviting GPs, small residential care providers (24 beds or fewer) and small domiciliary care providers (99 clients or fewer) to register and order with the PPE portal, in order to help meet their PPE needs in the current climate.
The page details who is eligible to register with the portal, how the order process works and what customers should expect from the portal.
All eligible providers should regularly check their email accounts registered with the CQC/MHRA for the email invitation.
Throughout the roll-out Lancashire County Council will continue to provide PPE to those who need it. In the longer term, this new portal will replace our local service as the emergency mechanism for ordering PPE.
Any queries about the portal can be made through our Customer Service team at: 0800 876 6802.
Advice for staff
The current Infection Prevention and Control Guidance recommends that a full face shield or visor should be used when performing aerosol generating procedures (APGs). Staff in your organisation may already have used the above Tiger Eye Protector product for non AGPs. The risk from using it in direct patient contact when not performing AGPs is limited.
If staff have used the product when performing AGPs or if otherwise they have been exposed to droplets or splashes you should communicate this to HSE through the RIDDOR route.
Shortage of PPE
The LCC PPE Phoneline and Mailbox operate Monday - Friday, 9am - 5pm
Tel: 0300 123 6786
Non-urgent orders and queries can be submitted via email to: CareProviderPPE@lancashire.gov.uk.
PPE guidance
Uniforms
Lancashire County Council has been notified of a couple of issues with staff visiting public places, such as supermarkets whilst wearing uniforms. It is acknowledged that some carers will travel straight from their home to their first client, and sometimes they will be out in the community doing caring tasks, but where possible, please could carers avoid commuting to and from their work place in uniforms.
Every carer providing support should always wear additional personal protective equipment (PPE) to reduce the risk of their uniform becoming contaminated. Adherence to these protocols is good, but the uniform may still be a risk for infection.
Product alert - Tiger Eye Protectors
Please note that the Tiger Eye Protectors product should not be used in a COVID-19 setting.
Please see the full alert for more information: Tiger Eye Protector Product – Removal from the Supply Chain in respect of Covid-19 use (PDF 157 KB)
It may be the case that you were supplied this product as part of the PPE distribution organised by the council between 10 April and 30 April 2020. Tiger goggles were handed out in unmarked bags, so people may not recognise the product. Please see below a picture of the product itself.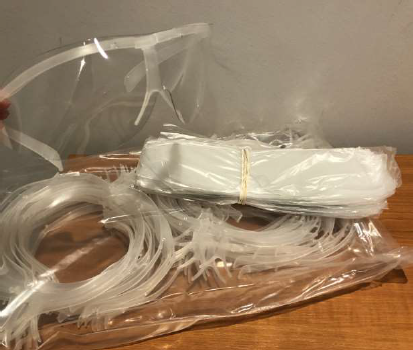 It would have arrived with self-assembly required, lenses needed adding to the frames.
If you are in need of visors to use in place of this product or need to request any other items of PPE from the council, after being unable to source PPE from your usual supply chains, please ensure that you flag this through your interactions with the Oracle Tracker or are raising immediate requirements through the PPE helpline: 0300 123 6786.