Enhancing your EYFS Provision in the Sand Area
£10.00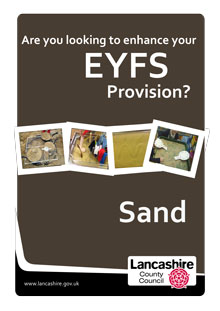 Practical Ideas - for teachers working in the Early Years Foundation Stage (3-5 years)

- Exploring damp and dry sand.
- Filling and emptying.

This packs focuses on the following areas:
These online resources have been created for teachers working in the Early Years Foundation Stage. This online professional development pack gives practical ideas and examples for developing learning through Continuous Provision within the Sand area. Developed by Lancashire Early Years Teaching and Learning consultants, the materials provide more focussed opportunities for moving the learning on, which incorporate popular focus areas alongside key skills, opportunities to develop these through questioning and possible enhancements.
- Mark Making and Patterns.
- Exploring Sand Creatively.
Each section contains photo galleries of resources and activities for ideas and inspiration as well as the online content in word and PDF format. Together they provide a great practical resource for practitioners to further develop these areas of continuous provision, and to support effective teaching and learning in the EYFS.
This is an online resource, your login details and a link will be sent to you via email once we have received your order.
This publication is subject to 20% VAT for non LCC Schools.