Introducing the SCART Club
Lancashire Reading Journey presents The SCART Club.
Children across Lancashire are invited to take part in this summer's Lancashire Reading Journey.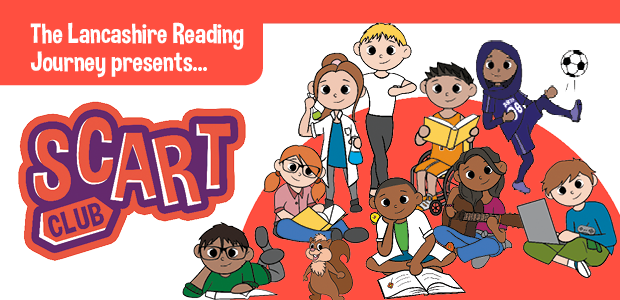 Lancashire Library Service will be launching their Summer Reading programme on Saturday 30 June.  This year the scheme is called the SCART Club and children will be invited to sign up at any Lancashire Library, for free.
SCART Club stands for Science, Culture, Active, Reading and Technology and 11 new characters have been created as members of the club; 10 boys and girls and the club's mascot Scart Squirrel.  Children from 5 years to 12 years old are invited to come and discover these new characters by taking on the challenge at their local library.
This summer the challenge is to collect all 5 SCART themes.  Each theme has tasks set by our club members, complete two tasks to unlock the subject and get the sticker.  For each subject one of the tasks must be reading related. 
As an added task, each sticker contains a symbol, children will have to identify the first letter of the symbol to unlock the mystery word.
3 subjects wins participants a half way treat.  By finishing all 5, children will gain a bonus sticker to crack the code and be rewarded with a cool prize!
Upon sign up each child will be presented with a task booklet, an A4 wallet and a blank name label for them to personalize. 
There'll be lots of activities taking place across all our libraries over the summer weeks, plus plenty of ideas to keep you entertained.  So make sure you visit from the 30 June and join the SCART Club!    
The Lancashire Reading Journey's SCART Club will be running throughout summer until 29 September.
What shall I read?
Here we are going to add some suggestions for your reading tasks, so come back soon.
Just login to request one for free with just one click from our library catalogue.
You can also borrow an eBook or listen to a talking book from our Digital Library. 
Play the SCART Club Scratch game 
Our award winning Reading Hack Ben has created a special Scratch game for the SCART club. A fun way to get your Technology stamp! Download the instructions here (PDF 680KB)
Come to a SCART Club event
We've lots of free events all summer at libraries across Lancashire. Go to one near you, and that'll be one task already completed
Visit a Lancashire museum with your family
Take your Reading Journey log book along to one of the following Lancashire Museums for free family entry during the 2018 school summer holidays:
One visit per log book. Up to two adults can accompany each child with a booklet.
Volunteer in your local library
If you're aged between 12 and 24 you can help support children to improve their reading skills at one of our libraries. Talk to children about books and recommend new titles and help them complete their reading journey tasks.
Volunteer to be a Reading Hack
A note for parents
Reading is a great activity to keep your children happy during the quiet times in the long summer holiday. Children who keep on reading outside school during the summer months have also been shown to improve their literacy levels and perform better when they return to school in the autumn. There are also many fun activities in our Reading Journey tasks that will encourage your child to be more creative and provide opportunities for the whole family to get involved.
How the SCART Club started

This year has seen a new approach for the libraries Summer initiative.  A competition was launched in conjunction with art students at the University of Central Lancashire (UCLan), inviting them to design the visuals for the scheme.  Second Year Video Game Design student Heather Holden, from Longridge, was successful with her designs. 
Heather was inspired to enter after being a regular visitor to Longridge Library and having fond memories of completing the summer challenges available when she was at school.