SCART Club
SCART Club is Lancashire Library Service's Summer Reading programme for children which runs throughout the summer school holidays.
Look out for further adventures of the SCART Club to come in Summer 2020…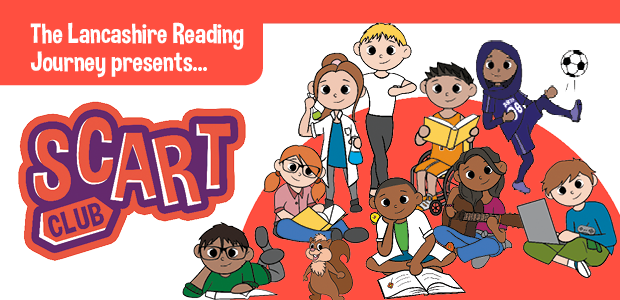 SCART Club stands for Science, Culture, Active, Reading and Technology and 11 characters have been created as members of the club; 10 boys and girls and the club's mascot SCART Squirrel. Children from 5 years to 12 years old are invited to come and discover these new characters by taking on the challenge at their local library.

There'll be lots of activities taking place across all our libraries over the summer weeks, plus plenty of ideas to keep you entertained.
Volunteer in your local library
If you're aged between 12 and 24 you can help support children to improve their reading skills at one of our libraries. Talk to children about books and recommend new titles and help them complete their reading journey tasks.
Volunteer to be a Culture Hack
A note for parents
Reading is a great activity to keep your children happy during the quiet times in the long summer holiday. Children who keep on reading outside school during the summer months have also been shown to improve their literacy levels and perform better when they return to school in the autumn. There are also many fun activities in our Reading Journey tasks that will encourage your child to be more creative and provide opportunities for the whole family to get involved.