SCART CLUB presents… PLANET SAVERS
SCART Club is Lancashire Library Service's Summer Activity programme for children which runs throughout the summer school holidays.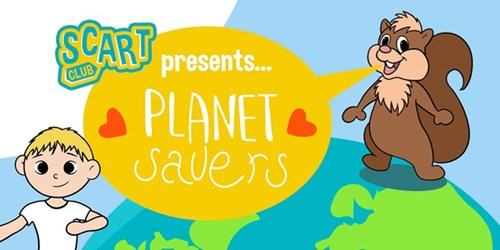 This year, SCART Club is all about making an impact on the world and helping to save the planet.  Children are invited to come to the library to pick up a free SCART activity booklet to take away, and there will be prizes to collect as they progress through the scheme. The booklet features a range of activities designed to get you thinking about the planet and how we can protect it.
Libraries across Lancashire will host a range of exciting activities to coincide with SCART Club, plus plenty of ideas will be shared on our social media to keep you entertained.
SCART Club will run from Saturday 2 July 2022 until Saturday 1 October 2022.
See our SCART Club events and activities
Free museum visit
When your child signs up to the SCART Club they'll also receive a special Green Ticket. The Green Ticket grants free admission to one of the six fantastic museums managed by Lancashire County Council. 
Find a museum and plan your visit.
A note for parents
Reading is a great activity to keep your children happy during the quiet times in the long summer holiday. Children who keep on reading outside school during the summer months have also been shown to improve their literacy levels and perform better when they return to school in the autumn. There are also several fun activities to complete as part of SCART Club that will encourage your child to be more creative and provide opportunities for the whole family to get involved.
In keeping with the Planer Savers theme, we have also included a pledge on the SCART Club booklet, based around the principles of Reduce, Reuse, Recycle:
Reduce – we are using less materials this year than in previous years
Reuse – the pop badge prizes on offer for participants are reused and refreshed from previous years schemes, and are made using recycled plastic
Recycle – all of the SCART Club booklets this year have been printed on recycled card