Introducing SCART Club 2021
SCART Club is Lancashire Library Service's Summer Activity programme for children which runs throughout the summer school holidays.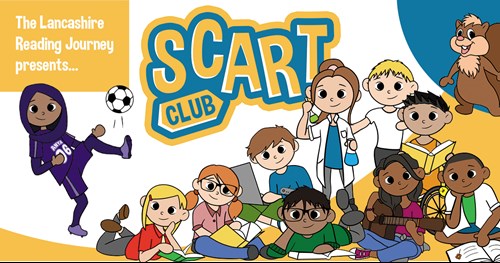 SCART Club stands for Science, Culture, Active, Reading and Technology and 11 characters have been created as members of the club; 10 boys and girls and the club's mascot SCART Squirrel. Children are invited to come to the library to pick up a free SCART activity booklet to take away, and there will be prizes to collect as they progress through the scheme. The activity card features a wide range of activities for each Zone but children and parents are free to come up with their own as well.

We are hoping that we will be able to host activities in our libraries over the summer weeks, plus plenty of ideas will be shared on our social media to keep you entertained.
SCART digital
If you are unable to get into one of our libraries, this year we are offering a digital version of SCART Club, where you can take part in activities online, share your reading recommendations, and then collect your prizes from the library at a later date.
To join SCART Digital, you will need to sign up for an account on Niche Academy.
Click/tap here for more information or to join SCART Digital
Free museum visit
When your child signs up to the SCART Club they'll also receive a special Purple Ticket. The Purple Ticket grants free admission to Lancashire County Council museums. Please note that visits to museums are currently bookable.
Find more information and plan your visit.
A note for parents
Reading is a great activity to keep your children happy during the quiet times in the long summer holiday. Children who keep on reading outside school during the summer months have also been shown to improve their literacy levels and perform better when they return to school in the autumn. There are also many fun activities in our Reading Journey tasks that will encourage your child to be more creative and provide opportunities for the whole family to get involved.