Diabetes
Diabetes is a major global public health problem, the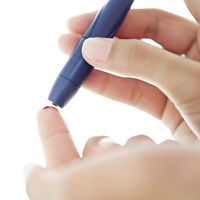 prevalence having increased in an exponential way over the last several decades and showing no signs of abatement. It is a cause of serious morbidity and significant premature mortality both in its own right and as a major risk factor for cardiovascular diseases (CVD) – coronary heart disease (CHD), stroke and peripheral vascular disease.
There are two main types of diabetes: Type 1 and Type 2 diabetes. Type 1 diabetes results from an autoimmune destruction of the cells in the pancreas which produce insulin. People with Type 1 diabetes must take daily injections of insulin for survival. Type 2 diabetes, which accounts for about 90% of all diabetes, is characterised by an inability on the part of the body to respond to insulin (insulin resistance) and/or abnormal insulin secretion. People with Type 2 diabetes may be treated with lifestyle changes (eating well, exercising and losing weight) and glucose lowering medication.
Key findings - prevalence
Figures from the 2016/17 Quality and Outcomes Framework (QOF) indicate that there are 101,623 known cases of diabetes mellitus (aged 17+) across the Lancashire and South Cumbria Sustainability and Transformation Plan (STP) area accounting for 7.2% of the registered 17+ population, with all eight clinical commissioning groups (CCGs) recording a prevalence significantly above the England average (6.7%).
Diabetes is an area that is considered to be under reported by the QOF disease registers, due to the disparity between diabetes prevalence estimates from large surveys such as the Health Survey for England, the numbers reported within the disease registers and the lack of symptoms. As such a national programme to determine a more accurate prevalence level was undertaken in 2011 based on district resident populations. The latest estimates (XLSX 139 KB), based on the Health Survey for England findings 2012, 2013 and 2014 and published in 2016, suggested that for 2017 there could be as many as 110,072 persons aged 16+ living with diabetes across Lancashire-14, which highlights the need for more work around increase diagnosis levels and patient awareness of the risks and symptoms of diabetes.
Page updated November 2017