Service planning areas
The draft service planning areas (SPAs) are a Lancashire-12 geography, created to inform service planning based on needs of the population. There are 34 SPAs in the Lancashire-12 area. They were created by clustering together between two and eight middle layer super output areas (MSOAs) with similar levels of overall deprivation according to the Index of Multiple Deprivation 2015. When drawing the SPA boundaries, due regard was given as far as practicable to the natural boundaries created by geographical features such as rivers and railway lines, and to the containment of discrete communities. Profiles have been created for each service planning area using a set of key indicators aligned to the strategic outcomes of:
living a healthy life;
living in a decent home in a good environment; and
having employment that provides an income that allows full participation in society.
The profile includes:
a summary of the key characteristics and issues for the area;
a map showing the boundaries of the area;
a socio-demographic profile including:

a population pyramid showing the proportion of very old, older and working age people, and school age and pre-school children broken down by gender. A comparison with Lancashire-12 has been included;
a summary of the predominant types of households living in the area and their preferred channel(s) of communication;
the ethnic make-up of the area and overall population figures;
deprivation information, including an average score for the area and the lowest and highest score within the SPA. If there is a large variance then it potentially shows that there are pockets of more deprived areas within the SPA;
a needs assessment comprising a range of indicators, split into fifths, so that the best performing and worst performing areas are highlighted. These indicators show the key issues to be considered when planning services;
each profile can be printed as an individual two-sided page, if needed, or accessed online via the contents page.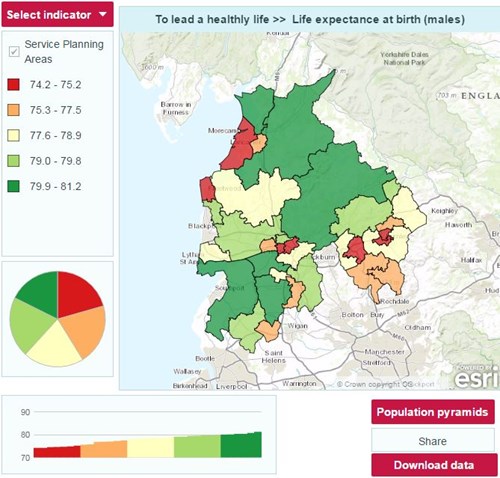 These profiles have been collected together into the draft SPA baseline needs assessment (PDF 5.49 MB), which provides a summary of the needs of the 34 SPAs. This intelligence has been used to inform the council's draft corporate strategy that was presented to Full Council on 17 December 2016 where it was resolved that following some amendments, the updated strategy be referred back to Cabinet for further considerations.
You can view all the baseline data for the SPAs in our interactive atlas.
Page updated April 2016