Every Action Has Consequences: 11- 24 Age Group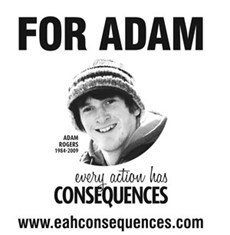 The Teachers Notes, Lesson Plans and Student Work Sheets are included in this pack to help teachers use the materials.
They are not prescriptive and Teachers may want to use them in a different way that lends itself more easily to their own teaching style.
The issues that come up may be different and go into wider areas.
The only thing that is crucial to the use of this package is that you show the first section – 'Adam's Story' – first.
As we have produced the materials and piloted them we have noted consistently the very powerful impact that the story has on a variety of audiences.
The purpose of our work is very clear. We want young people to have a more responsible attitude to drinking alcohol and to say no to violence. We want young people to stay safe when they go for a night out.
The final part to our work is about organ donation. This section is called 'The Gift of Life'. For us it has become a very important addition to our work and we hope by watching the materials we will encourage young people to talk about a subject which is very difficult.