When a person has a cardiac arrest, there are a few vital minutes to save them!
Which is why we teamed up with BBC Radio Lancashire and the North West Ambulance Service to encourage as many people as possible to become Lancashire Lifesavers. 
Over 2,500 people received CPR and defibrillator training throughout April and May 2018 and we would like to say a big thank you to everyone who attended.
Locations for new defibrillators
We've invested £30,000 to have more defibrillators installed across Lancashire and thanks to everyone who suggested a location.  We had over 200 suggestions and we are now making the difficult decision on where we can fund them.
We will be finalising where the locations will be at the end of July 2018 and will be in touch directly with everyone who made a suggestion.
Using a defibrillator 
Early CPR and defibrillation gives patients in a cardiac arrest the best possible chance, which is why it's so important that community access defibrillators are available in as many places as possible. 

In the event of a cardiac arrest, dial 999 as soon as possible and the emergency medical dispatcher will give you all the instructions you need. They'll let you know if there is a defibrillator nearby and how to access it.
CPR
Approximately 30,000 people in the UK suffer an out of hospital cardiac arrest every year and currently only 1 in 10 people survive. However, if someone receives CPR very quickly following the cardiac arrest there is a significant increase in the chance of survival.
CPR helps artificially keep the blood pumping around the body until medical help arrives.
The important thing is that whatever you do you cannot do it wrong or put them in a worse position – with a little bit of training you could help save a life.
Cardiac arrest or heart attack?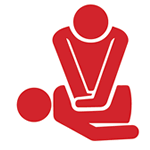 A cardiac arrest is the most extreme emergency and happens when the heart stops beating in a normal way, preventing the blood from pumping round the body.
Someone who is having a cardiac arrest will suddenly lose consciousness and will stop breathing normally. Unless immediately treated by CPR, the person will die in minutes.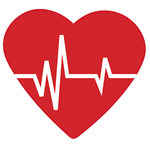 A heart attack can lead to a cardiac arrest but they are not the same thing.  A heart attack happens when there is a sudden interruption to the blood supply to the part of the heart muscle and it is starved of oxygen rich blood. It is likely to cause chest pain and damage to the heart.
Symptoms could include chest or arm pains, shortness of breath, vomiting or clamminess.