Sandra and Barry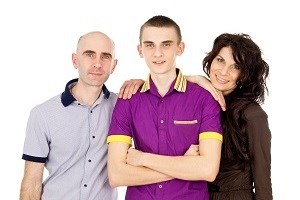 Sandra and her husband had been fostering for a number of years, mainly younger children when they were asked to look after a thirteen year old boy. It was to be a 6-8 week placement as mum was going into re-hab. Tom* arrived with a plastic carrier bag in one hand and a battered box of tissues and a new toothbrush in the other.
Sandra said: "He looked very startled and unsure, we were also very unsure as this was all new to us. We decided the best thing to do was lots of activities as a family to try to get to know him better, like swimming, bowling and going to the cinema. This seemed to work and he soon started to settle.
"We learned Tom could hardly read or write because he had missed some school and was dyslexic. After supporting Tom at meetings in school, he soon had the support in place to help him learn.
"But then mum's rehab failed and court proceedings started for him to be in foster care permanently. This was a major setback and his behaviour deteriorated dramatically. He became aggressive, threatening and very withdrawn. We were always very open and honest with him and as time went on, he began to trust us more and started to understand the reasons why he wasn't allowed home.
"Tom had always wanted to join the Army so at 14 we took him to the Army careers office to find out what qualifications he needed for the course he wanted to do. He worked his socks off to get 7 GCSE's which was a great achievement and we were so proud of him.
"He joined the Army and became one of the top recruits. We were so proud on his passing out day. In time he met a lovely girl and decided to get married, I will never forget his wedding day when he stood up to give his speech. This big bloke in his full dress Army uniform stood there with tears running down his face and said to us: 'Thank you, if it hadn't been for you I wouldn't be where I am today'.
"Today, we are now the proud 'grandparents' of two beautiful boys and the icing on the cake is that Tom has named his second son after my husband. That six week placement turned into a placement for life. I hope our story will encourage more foster parents to give teenagers a chance. Yes, it has its moments and can be hard work at times but the rewards are tremendous."
* We changed the boy's name to protect his identity.