Marieta and Stevie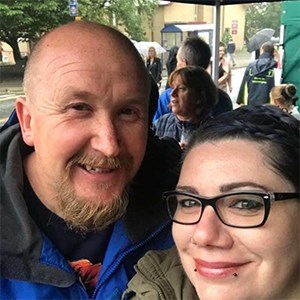 Myself, Stevie and our family have been fostering with Lancashire County Council for almost 12 years and have looked after all ages from babies to 17 years. We have two adult children of our own, one granddaughter and one soon to be daughter-in-law. We currently look after two teenagers and a 'tween who likes to act very much like a teenager! I am a full-time foster carer, attending meetings, appointments, training, doing admin etc. and Stevie works full time in construction.
Teenagers generally tend to get bad press, but we need to give them a chance, it's a tough job becoming a young adult.
Being in care is hard for any child; but dealing with teenage changes, pressure to fit in, pressure to grow up, pressure from school and studying for exams must make it even more difficult.
We find our older ones so much fun to be with. Seeing them grow and develop their personalities, their own sense of humour, their own likes and dislikes, their own friendship and support circles is amazing. Talking to them and helping them look forward to which options they want to choose at school or what they might want to study is exciting. On more difficult days, we try to help them recognise their feelings, name the feelings and understand that it is perfectly acceptable to have those feelings.
Our teens have a wicked sense of humour, meal times often involve lots of giggles at the random conversations we have. They are all very much into their own types of music, their own sense of style and their own ways of being entertained, but we all come together to share a love of Marvel movies, Disney movies, Strictly Come Dancing and Great British Bake Off.
We enjoy camping, dancing, cycling, football, golf and Park Run. (Well, I don't do Park Run, golf or footy, I leave that to them!)
Our family is lucky enough to have great, supportive friends, some who foster and some who don't. We get to enjoy a lot of those activities together and see our young people build lovely, strong relationships with others. Our children have always taken an active role in fostering, joining us for camping trips, days out and regular family meals.
Having foster carers among our close friends is priceless. We have come to know them through our fostering careers and been able to support each other, offer babysitting, practical support and lots of brews and cake.
Support groups and training days are also a great way to meet other fostering families and discuss similar issues. Our foster carer colleagues understand our role, our responsibilities, how we parent differently, how some days are difficult for no particular reason and how we enjoy celebrating seemingly small steps in every day life. When circumstances allow, we also have social events for our fostering families to allow all ages to get together to have fun.
Personally, I absolutely love being a foster carer. It has been a tricky journey at times, and it's always emotional when a child or young person moves on, but I wouldn't change my career for the world. I've learned so much, had so many laughs and met some amazing and inspirational young people.
Get in touch
Interested in fostering with us? We'd love to hear from you.
If you'd prefer to speak to someone then give us a call on 0300 123 6723