Joanna and Stuart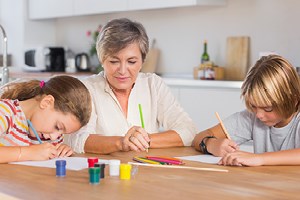 Joanna and Stuart, both aged 54, have been fostering for three years. After their own children grew up, they had a spare bedroom, and thought their five grandchildren would be instant company for foster children.
Joanna said:
"At first we thought we were too old to foster in our fifties, but this wasn't the case, it's what you can offer a child. I saw an advert online for fostering for the county council, and we've never looked back.
"Fostering has opened up a whole new set of doors in our lives, I feel that every child that has entered our home has become family, each child is so different and we embrace their individuality. I also like meeting other foster carers and sharing experiences and advice that is truly invaluable.
"At the moment we are caring for siblings, both with challenging behaviours and medical issues.
"Both children don't feel pain the same as you would expect a child of their age to do. It's was worrying because they can get very physical at times, and they would not come to me when they had hurt themselves. With the help of my grandchildren, they have learnt to come to me so I can check everything is ok.
One child has Di George syndrome Q22 11 deletion which is a chromosome abnormality. She is a happy loving little girl full of energy but there is a lot to be aware of with Di George. We researched the condition before she come to live with us so we'd be prepared.
"Her brother is very protective and wants to be in charge of his sister, he can be aggressive towards her and gets jealous when she plays with other children.
"Working with professionals, educational and medical, to get the help the children need quickly started to pay off.
"Already the children have settled very well and are now part of the family and good friends with my grandchildren.
"It can be very overwhelming taking on a child that has extra needs, but don't be afraid to ask questions, the fostering team at the county council are very helpful and will support you in all aspects of fostering.
"Our main concern was, what if we fail and don't make a difference? Well 3 years on and we feel we are making a difference with children that need our help."