James and Paula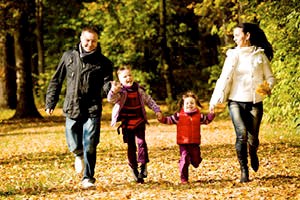 James and Paula, aged 37, have been fostering with us for five years. James said:
 "We started to consider fostering soon after I joined the Fire Service due to some of the safeguarding issues that I came into contact with whilst carrying out community fire safety activities in underprivileged areas. My wife and I thought on and off about fostering for about two years before we made the initial call to Lancashire County Council looking for further information.
"I think what gave us the final push towards fostering was having been away on a camping trip to the Lake District and seeing families with young children having a great time and realising that there were a lot of children who would never have the opportunity to experience the things that we took for granted.
"We enjoy an active and fulfilling lifestyle and felt that we were good people who had a lot to teach and share with children who would never otherwise have the stability, guidance and opportunities.
"We didn't have any children of our own and so thought this may have been a stumbling block. However, during our assessment, our social worker was able to look at some of our experience with children in our work settings and take references from friends and family members whose children we had looked after.
"We have fostered 7 children over a 5 year period ranging in age from 11 months to 9 years. We currently have a sibling group of two girls aged 8 and 9 who are with us in a permanent placement and we also have an 18 month old boy who came to us as an emergency placement.
"It's great to see the gradual change in the children we have fostered. Watching them develop and become happy, confident and capable individuals who enjoy and achieve."