Denise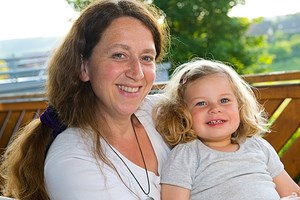 Denise, aged 56, has been a single parent foster carer for nine years. She was unable to have birth children but really wanted to have children in her life and so fostering seemed like the ideal solution for her. She said:
"I'm a single woman with no birth children of my own, I was in my late forties and although I had had a good job I had never worked directly with children. My marriage had failed due to fertility problems which led to a short bout of depression, so I remember thinking at my initial visit from the social worker that I've not got much chance really.
"I have cared for children from two weeks old to teenagers and everything in between. I have just accepted my first parent and child placement and I am so looking forward to this new challenge.
"At first it was just having children around I found rewarding however as time has gone on I find myself wanting to gain insight into different ages and outcomes.
"I'm currently caring for a seven year old girl who arrived with me at six weeks old, she'd had a bad start in life and had suffered terrible injuries. She had to endure three years of unhappy contact with her birth family as the case was being twin tracked with a criminal trial which went on for years. She has overcome most of her problems now and I am so proud of her.
"Another child I cared for I collected from hospital as a newborn baby. She was very poorly and she had to go through neo natal abstinence and alcohol withdrawal. I was told over time she would have trouble walking, problems with her sight and would perhaps have no speech.
"A relative came forward to be assessed to care for her but this was not successful so she was to be adopted, over time interested people came and went mostly put off by her medical history.
I will never forget the day when aged two and a half she walked into her new home with her Mummy and Daddy and her brother. She overcame all her health issues and is now with her new family and thriving."