Barbara and Keith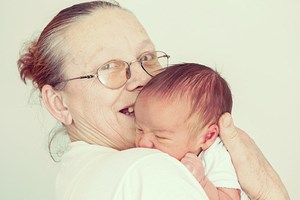 Barbara has been a foster carer with her husband Keith for three and half years. She recently started a parent and child placement, supporting a mother to care for her baby. She said:
"It's a big responsibility accepting a mother and baby into your home. You become their mentor, the person they need to be able to trust and rely on. It can be quite scary at first, for us all. Inviting them into your home and it then becoming their home, they need to feel comfortable, relaxed, safe and secure.
"It is important to work together as a team and to keep to set routines and boundaries, so everyone knows what they are up to on a daily basis. It can be intrusive, not having any privacy with family members, but I love having a baby around my house.
"It can even bring you closer together as a family. My family are very supportive of me and Keith and love to get involved and come with us on days out. The young mums and babies also seem to enjoy feeling part of our family.
"Knowing how to care for a baby may come naturally to some mums, but to others, having the responsibility of a baby can be quite a frightening experience. Many of them have not been taught the right way to care for themselves, never mind a baby.
"Empowering a mother and teaching her can be very rewarding but tiring, working through the days and sometimes through the nights.
"I try to build up good relationships with the mothers, I let them know that I care for them and I want to help them to be able to look after their babies. I teach them to understand and have respect for the authorities and professionals (most mums say they think the authorities are waiting for them to do something wrong and they want to take their babies from them).
"My social worker was very good at stepping in at the right times to advise and support me when difficult situations arose. I found her reassuring at times when I was unsure. Logging daily, updating records, reporting to professionals is so important, as well as sticking to house rules and routines. By staying positive and being honest, we are trying our best to help, to protect and make a difference to these young lives."