Ryan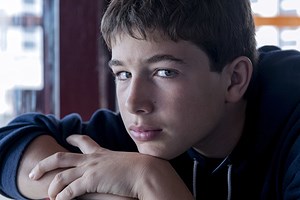 Ryan came to his current foster carers at six years old with severe autism and learning difficulties. He could not speak and used a pushchair outside because of his refusal to walk.
As Ryan was not able to communicate verbally, it could lead to anxiety, anger and frustration and then to regular outbursts as he had no other way to express himself.
His foster carers dealt with challenging behaviours right from day one such as these aggressive outbursts. They undertook specific training courses to learn how to deal with this and found it was important to have consistent routines and boundaries to help him to feel safe and secure. When he occasionally revisits old behaviours, they can still use the same approach to calm him.
What struck his foster carers most were his eyes, at first they appeared dull like a candle with an odd flicker. Over the years, his eyes have become shining bright and now have a beautiful sparkle.
Today, he is 14 and goes to a special school. He still cannot have a conversation but is now able to communicate through sentences that are on his DVDs.
He enjoys going to an inclusive theatre group where he can be with his mainstream peers with support. He is well liked and has had parts in shows over the years. He is also in a special ski club and has entered regional ski competitions and won medals, he even goes to Switzerland every year as part of a team. His foster family are so proud of him and all his wonderful achievements.
This is a real-life case study, but we have changed the name and image of the young person to protect their identity.