Poppy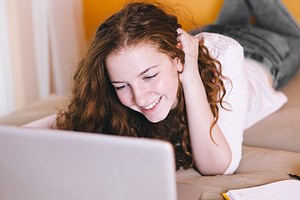 Poppy is 16 and has lived with her foster family for a year and a half. The family have teenage girls who she gets on very well with and she is now very settled and regards it as her home.
She has very little family of her own and has suffered lots of bereavement and loss in her life. Initially the other children in the household found it difficult at times having another teenager in the home and the boundaries with regards to possessions and personal space were a little challenging. But after having several chats and explaining to them the reasons for such behaviour they quickly solved any problems together.
Poppy came into care very late in her education and was close to completing her GCSEs. She had been slipping backwards in school due to her deteriorating home life. Unfortunately she obtained all ungraded results in her exams so her foster carers had a look into the options available for her going forward. They helped her gain a place in college which she loves and already in just a year her maths grade has leapt up by three full grades.
Her foster carer said:
"She is a wonderful girl and when any of her foster family is upset she is straight there with hugs and love trying to make her 'sisters' feel better. She leaves us little notes all over the house telling us how much she loves us and how she loves being here.
"Like many girls her age, she loves horses and Justin Bieber! She doesn't like spicy food or being caught out fibbing!"
Poppy said:
"I want to stay here with Gill and Roger because they have looked after me so very well and they treat me as their own. I have become a better person because they have helped me and I am now at college. They are amazing foster parents and anybody would be lucky to have them as parents!"
This is a real-life case study, but we have changed the name and image of the young person to protect their identity.