Luke and Daniel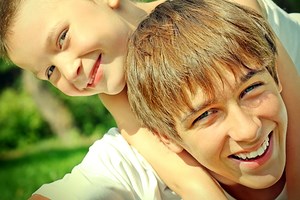 Daniel was 8 years old and Luke was 13 years old when they arrived with their foster family. Their father had died a year earlier and their mother was unable to cope and they had a long history of neglect. During the three years they have been with their foster carers, they have come on leaps and bounds, and are now aged 11 and 16.
Daniel likes craft activities, scouts and is a member of the local drama group. He doesn't like being told what to do or doing his homework (typical 11 year old!)
Luke likes outdoor activities, explorers, playing the guitar and he has also joined the local drama group. He doesn't like it when people treat him differently for being in foster care.
When asked how they have progressed since coming into foster care, their foster carer said:
"Where do I start? Everything has changed for them; previously they were shy, had very little confidence in their own abilities and were both struggling a bit at school. They were unsure about trying new things, their behaviour was difficult and they didn't understand boundaries.
"They are now both top grade students and are happy to try everything! Their behaviour is sometimes tricky but it is much improved. They also hadn't grieved for their father, they are now able to cry and talk about him openly."
When asked what he likes about living with his foster family, Luke said:
"We get to try new things which we might not have tried before and get loads of support and stuff".
Both boys recently won awards recognising the progress they have made and their foster carers were so proud. The impact this had on them both has been immense as they have learnt how much they are loved and how impressive the changes they have made really are. It has had a positive effect on behaviour for months afterwards.
This is a real-life case study, but we have changed the names and image of the young people to protect their identities.