LGBTQ+ Adoption and Fostering Week 2023
LGBTQ+ Adoption and Fostering Week took place from Monday 6 March until Sunday 12 March 2023. The need for more LGBTQ+ people to consider fostering (or adoption) is as great as ever. Could you parent or care for one, two, three or more vulnerable children? The campaign is run by New Family Social and was supported locally by our fostering service and Adoption Lancashire and Blackpool.
We have found the whole experience very rewarding. The difference in these children from them moving in to where they are now is astounding. They really have thrived from having a safe and loving home with us. Their education, health and personal growth has been very noticeable.
If anyone is thinking of fostering, get in touch with Lancashire County Council and speak to someone who can answer your questions. They are with you every step of the way, from enquiring to getting your first placement.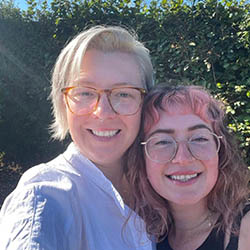 Dianne and Bev have previously shared their experiences about the support they've received as part of our fostering community. They have been fostering for 10 years and currently foster twins and say it is the best thing they have ever done. 
Benefits and Support
From 1 April 2022, we increased the financial allowances we pay to support our foster carers. This includes a: 
weekly allowance

 

to help with the cost of caring for a child
one off £1,000 welcome payment, for non-connected foster carers, after successfully fostering a child with us for two months
one off £1,000 incentive when a sibling group of three or more children are matched and placed at the same time, and fostered for two months.
Find out more about the benefits and support you'll receive as part of our fostering community. 
Get in touch or meet the team
We have many same-sex couples, or single people from the LGBTQ+ community, in Lancashire who are providing stable and loving homes for children and young people who cannot live with their own families.
We always need more foster carers from all walks of life, and we welcome applications from people of all ages, sexuality, gender, single, married, cohabiting, in same-sex relationships, with or without their own children, working or not.
To be considered as foster carers you need to be over 21, and living in or close to Lancashire.
There is no typical foster carer – we need people with stability, love and resourcefulness who can help a child with whatever needs they may have.
If you're LGBTQ+ this may be the first time you've ever considered fostering. Get in touch today to find out how you can make a positive difference to a local child or meet our fostering team at one of our community events near you.
Contact our friendly, local fostering team via our enquiry form or call 0300 123 6723.
Get in touch
Interested in fostering with us? We'd love to hear from you.
If you'd prefer to speak to someone then give us a call on 0300 123 6723
Stuart and Paul

Stuart and Paul have been fostering for five and a half years. Read their inspiring story or see all our fostering stories.