LGBT+ Adoption and Fostering Week 2022
LGBT+ Adoption and Fostering Week in now in its 10th year and took place from Monday 7 March until Sunday 13 March. This year the theme was 'Be The Change', encouraging LGBT+ people to consider the different children they could be the change for. During the week, we encouraged more lesbian, gay, bisexual, and transgender+ people to consider adoption and fostering. The campaign is run by New Family Social and was supported locally by our fostering service and Adoption Lancashire and Blackpool.
Dianne and Bev's story
During LGBT+ Adoption and Fostering Week we heard from Dianne and Bev talk about the support they've received as part of our fostering community.
Get in touch or meet the team
We have many same-sex couples, or single people from the LGBT+ community, in Lancashire who are providing stable and loving homes for children and young people who cannot live with their own families.
We always need more foster carers from all walks of life, and we welcome applications from people of all ages, sexuality, gender, single, married, cohabiting, in same-sex relationships, with or without their own children, working or not.
To be considered as foster carers, people need to be over 21, and living in or close to Lancashire.
There is no typical foster carer – we need people with stability, love and resourcefulness who can help a child with whatever needs they may have.
If you're LGBT+ this may be the first time you've ever considered fostering (or adopting). If you are considering fostering, get in touch today to find out how you can make a positive difference to a local child or meet our fostering team at one of our community events near you.
Philip and David's story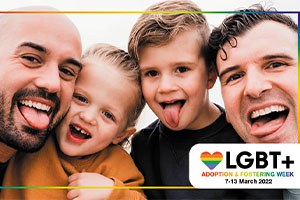 Philip and David are foster carers for two boys. The couple feel they've had excellent support as part of our fostering community.
Read their story or see all our fostering stories.
Get in touch
Interested in fostering with us? We'd love to hear from you.
If you'd prefer to speak to someone then give us a call on 0300 123 6723