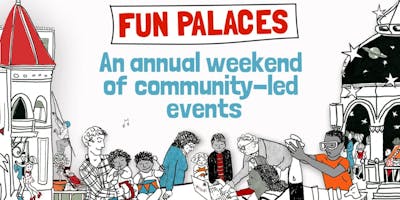 This is our 2nd Fun Palace to date and we are planning a great day of fun and activity. We had a very enjoyable, well attended event last year and are hoping for an even better one this year.
What's Going On...
9.30 – 11am Face Painting with Kirsty Jenkins  (in the Lending Library)
10am - 3pm   Health Checks and Smoothie Making      Up & Active Rossendale (in the Lending Library)
10-4pm Family History workshop with Rossendale Family History & Heraldry Society (In Community History)
10.30 - 1.30pm Sign Language & Deaf Awareness from Ayesha Gavan (in the Information Corner)
10.30-11am Mini Rockers & Rollers with Mini Me Time (in the Children's Library)
10.30am - Book Folding with Lancashire Adult Learning (in the Lending Library)
10.30-3pm Learn about and handle Owls with Angie's Owls (in the Lending Library)
11.30 - 12.30 Dru Yoga Taster Session (in the Lecture Hall)      
2-3pm Creative Dance with Mini Me Time (in the Children's Library)
2.30-4pm Make Ceramic Wall Hangings with MAKE! Ceramic Studio (in the Lecture Hall)
*Please note that times, activities and participants may be subject to change*
There are no tickets, just turn up on the day, all activities are 'first come, first served'.
We have over twenty venues across Lancashire taking part in Fun Palaces this year: To find one near you, visit our website: https://www.lancashire.gov.uk/libraries-and-archives/libraries/fun-palaces/ 
Fun Palaces are:
Free : Free to enter, free to take part. No ticket needed, just turn up on the day
Local : Ideally by local people for local people – that's you.
For all ages : They're not just for families or children, they're for everyone, whatever their age
Inclusive : Everyone is welcome – as organisers or participants – and we'll help you do it
Hands-on : They're about joining in with arts, science, crafts and tech. Doing something together.
The process as much as the events : Communities from all over Lancashire making it happen.
Part of a Campaign : A national and international shout for access and inclusion for culture.
Yours : without you, it doesn't happen.
Fun Palaces an annual event made by local people for their own communities, bringing together arts and sciences, crafts, tech and digital, free and fun, linked by the Fun Palace network.