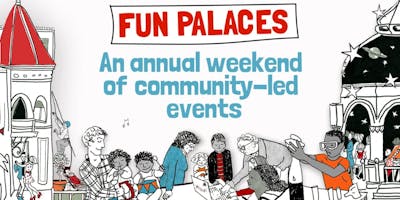 Come along to Poulton Library for our first Fun Palace! This promises to be a morning full of music, fun and laughter! Look forward to seeing you! 
What's Going On...
10am - 10:30am Our Town Crier launches Fun Palace from Michael Middleton Poulton's Town Crier
10am - 1pm   Caricature with Attitude with Chris Knapman,
10am - 1pm   Scrabble Challenge from the Poulton Srabble group
10am - 1pm   Mandala Stones with Lancashire Adult Learning
10am - 11am Scottish Country Dancing with Carleton Scottish Country Dancing
11:30am - 1pm Music with Albie and Melda from Albie and Melda Hilton
10am - 1pm   Slime Making with Anna Haywood
10am - 1pm   Biscuit Decorating with Poulton Library Friends
10am - 1pm   Making roses out of ribbons and showing how to knit with our Knit and Natter Group
10am - 1pm   Try Virtual Reality with Nick and Sam
10am - 1pm   Making Bird Feeders with Debbie Mellor
10am - 1pm   Card making, jewellery and clay model making with Olga Wood
10am - 1pm   Hair braiding from Aaliyah Jervis-Theophilou
10am - 1pm   Try Digital Books with Nick/Sam
*Please note that times, activities and participants may be subject to change*
All activities are free.
There are no tickets, just turn up on the day, all activities are 'first come, first served'.
We have over twenty venues across Lancashire taking part in Fun Palaces this year: To find one near you, visit our website: https://www.lancashire.gov.uk/libraries-and-archives/libraries/fun-palaces/ 
Fun Palaces are:
Free : Free to enter, free to take part. No ticket needed, just turn up on the day
Local : Ideally by local people for local people – that's you.
For all ages : They're not just for families or children, they're for everyone, whatever their age
Inclusive : Everyone is welcome – as organisers or participants – and we'll help you do it
Hands-on : They're about joining in with arts, science, crafts and tech. Doing something together.
The process as much as the events : Communities from all over Lancashire making it happen.
Part of a Campaign : A national and international shout for access and inclusion for culture.
Yours : without you, it doesn't happen.
Fun Palaces an annual event made by local people for their own communities, bringing together arts and sciences, crafts, tech and digital, free and fun, linked by the Fun Palace network.