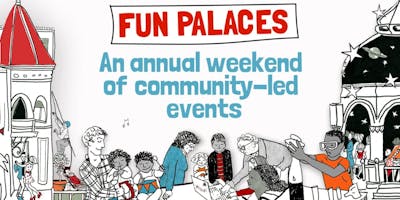 This is our second Fun Palace. We have a theme this year.... The Sea! Come in fancy dress if you wish - we'll be dressed as pirates!
What's On - It's all Fun, it's all FREE
Throughout the day
Come in Fancy Dress - Pirate, mermaid, sea creature, sailor …anything to do with the sea! Take photographs at our sea scene!     
Children's crafts - Sea themed crafting with Shirley Jones, Rita Waterhouse
Coding - come and have fun! with Stephanie Lees-Pinson
Come and discover your DNA string! with Judith Smith, Forensic Genetics, UCLan
Crafting – A range of crafts to try with Rita Waterhouse
Lego Robotics - build and code! with Lancashire Adult Learning
Research your family history! with Chris Morton
Treasure Hunt - look for the clues round the library to find the Treasure! with Shirley Jones
10am – 10:40am
Clan Beheatha Ceilidh Band
10:45 – 11:30am
Ingol Memories Project - come and hear how Ingol's social history has been explored by members of the community - Is your memory here? (plus exhibition) with Caroline Alexander
11:30am        
DanceSyndrome with Becky Rich
12:30-1:30pm           
Come and meet Nick Oldham, local crime fiction and thriller author
1.45-2.15pm 
Tai Chi - Enjoy and participate! with The Confucius Centre, UCLAN
2.30-3.30pm 
Join in with the Worldwise Samba Drummers with Jon Aveyard
*Please note that times, activities and participants may be subject to change*
We have over twenty venues across Lancashire taking part in Fun Palaces this year: To find one near you, visit our website: https://www.lancashire.gov.uk/libraries-and-archives/libraries/fun-palaces/ 
Fun Palaces are:
Free : Free to enter, free to take part. No ticket needed, just turn up on the day
Local : Ideally by local people for local people – that's you.
For all ages : They're not just for families or children, they're for everyone, whatever their age
Inclusive : Everyone is welcome – as organisers or participants – and we'll help you do it
Hands-on : They're about joining in with arts, science, crafts and tech. Doing something together.
The process as much as the events : Communities from all over Lancashire making it happen.
Part of a Campaign : A national and international shout for access and inclusion for culture.
Yours : without you, it doesn't happen.
Fun Palaces an annual event made by local people for their own communities, bringing together arts and sciences, crafts, tech and digital, free and fun, linked by the Fun Palace network.