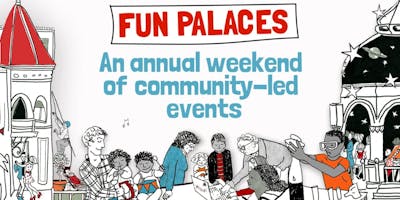 This is our second Fun Palace, and we're looking to build on the success of last year. With both new and returning experiences, activities and ideas, join us in putting community at the heart of culture and culture at the heart of community.
10am-4pm Creation station
10am-4pm Photo scavenger hunt
10am-4pm Drawing station
11am-2pm Science Spectacular from Lancashire Adult Learning
10am-4pm Artist in residence feat. Cedric Charleuf
10am-4pm Card making with Sameena
2-3pm The Quantum Poet with Dean Fraser
Times TBC
Bringing the past to life with the Heritage Learning Team
Wii Sports
Recreate the library in Minecraft   Staff
Build the library of the future in LEGO     Staff
Gardening Activity with the West Bradford Garden Club
Try Tai Chi with Ribble Valley Breast Friends (Eileen Flatley)
Up and Active with Ribble Valley Up and Active
STEM challenge from Phil Wheatley andJohnson Matthey
For The Birds with the RSPB
*Please note that times, activities and participants may be subject to change*
Clitheroe library is undergoing essential building renovation work which may last for several months, so we are unable to yet confirm the location of these activities.
All activities are free.
There are no tickets, just turn up on the day, all activities are 'first come, first served'.
More Fun in Clitheroe - On the same day, we will also holding a Fun Palace at Clitheroe Castle Museum (just up the hill from the Library). http://funpalaces.co.uk/discover/clitheroe-castle-fun-palace-2/
We have over twenty venues across Lancashire taking part in Fun Palaces this year: To find one near you, visit our website: https://www.lancashire.gov.uk/libraries-and-archives/libraries/fun-palaces/ 
Fun Palaces are:
Free : Free to enter, free to take part. No ticket needed, just turn up on the day
Local : Ideally by local people for local people – that's you.
For all ages : They're not just for families or children, they're for everyone, whatever their age
Inclusive : Everyone is welcome – as organisers or participants – and we'll help you do it
Hands-on : They're about joining in with arts, science, crafts and tech. Doing something together.
The process as much as the events : Communities from all over Lancashire making it happen.
Part of a Campaign : A national and international shout for access and inclusion for culture.
Yours : without you, it doesn't happen.
Fun Palaces an annual event made by local people for their own communities, bringing together arts and sciences, crafts, tech and digital, free and fun, linked by the Fun Palace network.