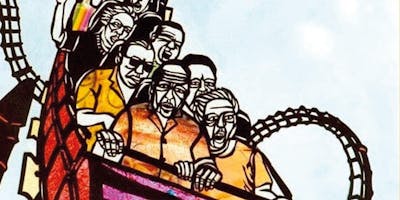 An exhibition by Willo Williams, winner of the Ribble Valley Open Selector's Prize 2018, featuring the artwork of Willo and selected works by Paul Derbyshire.
In her own words Willo considers herself to be more of a maker than an artist:
"I'd much rather be modelling a lump of clay or making something from items that would usually be discarded. These creations can be functional, thought - provoking or unashamedly decorative – anything that might make me feel as if I am doing something meaningful with my time and energy - and perhaps persuade the viewer to reconsider what they might otherwise see as waste. My 17 years in Africa were life changing; seeing the hardships endured and absolutely everything being recycled. I still find it very hard to throw things away, so the use of 'junk' or recycled objects can be found in much of my work.
Inspiration is to be found everywhere: an incident, a remark, a media report or picture, my dance class, fairgrounds, museums, - any situation, the young, the old - good or bad – humorous or satirical whenever possible, sometimes tragic."
Visit the Steward's Gallery and enjoy Willo's unique world until the 16th June.
Access to the Steward's Gallery is FREE 
(If you also wish the visit the museum admission is £4.50 adults, £3.40 concessions, young people 13 - 18 years free, accompanied children 0 - 12 years free)

For more information, please contact us