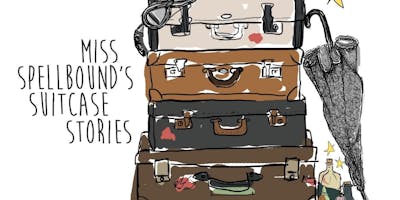 Lancashire Reading Journey presents…. The SCART Club!
Join us at Fulwood Library and take part in our fun packed activities and work towards your SCART Reading sticker at the same time.

Miss Spellbound's Suitcase Stories is a participative story making workshop led by Miss Spellbound, Senior Imaginologist and Contemporary Story Keeper at The Imaginarium.

Powered by tales, Miss Spellbound never goes anywhere without her story suitcases. Battered and torn, they're almost full to bursting with the scraps of stories she's collected on her travels. Sit with her awhile as she waits for the next burst of inspiration to strike and find out what it takes to make a story worth storing in Miss Spellbound's suitcases.
Create and perform your own written adventure tale at this magical themed story making activity from Fable Arts in association with Lancashire Libraries.
Miss Spellbound's Suitcase Stories is suitable for children age 7 – 11. Places are limited to 12 places per workshop
Lancashire Libraries have launched their Summer Reading programme for 2018. This year the scheme is called The SCART Club and children will be invited to sign up at any Lancashire Library, for free.
SCART Club stands for Science, Culture, Active, Reading and Technology and 11 new characters have been created as members of the club; 10 boys and girls and the club's mascot Scart Squirrel. Children from 5 – 12 years old are invited to come and discover these new characters by taking on the challenge at their local library.
Upon sign up each child will be presented with a task booklet, an A4 wallet and a blank name label for them to personalise.
There'll be lots of activities taking place across all our libraries over the summer weeks, plus plenty of ideas to keep you entertained. So make sure you visit from the 30th June and start your Reading Journey!

This event is now fully booked.
For more information, please contact us