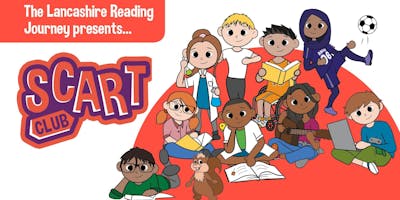 Lancashire Reading Journey presents…. The SCART Club
Every day during library opening hours we will be asking for your ideas about what helps to make a tower tall and stable, as we see how high we can build one using boxes and recycled materials! It'll help you work towards your Science sticker with Si and Sadie. You can also make mini towers for our construction display from lego, duplo, stickle bricks or blocks.
Lancashire Libraries have launched their Summer Reading programme for 2018. This year the scheme is called The SCART Club and children will be invited to sign up at any Lancashire Library, for free.
SCART Club stands for Science, Culture, Active, Reading and Technology and 11 new characters have been created as members of the club; 10 boys and girls and the club's mascot Scart Squirrel. Children from 4 – 12 years old are invited to come and discover these new characters by taking on the challenge at their local library.
Upon sign up each child will be presented with a task booklet, an A4 wallet and a blank name label for them to personalise.
There'll be lots of activities taking place across all our libraries over the summer weeks, plus plenty of ideas to keep you entertained. So make sure you visit from the 30th June and start your Reading Journey!

This event is free, no booking required.
For more information, please contact us