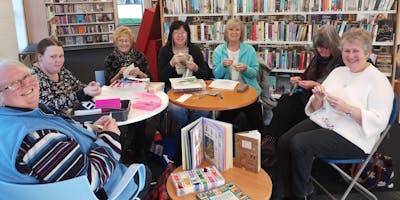 Having the opportunity to be creative has many therapeutic benefits, as part of the Get Creative Campaign we are hosting a Paper Mosaic session. Our cosy, friendly library provides an ideal space to create your own mosaic from small paper squares. The tactile process of cutting, sorting and sticking paper can be relaxing and offers the chance to reminisce about your school days.
No previous skill required as we will be referring to Christine Watson's Art Therapy book for guidance.
We provide the papers, scissors and glue, and even a brew. You bring the willingness to give it a go. You never know, you might be inspired to borrow the book after the session and try out more ideas at home.

#art therapy #Reading Well #Books on Prescription #Get Creative This event is free, no ticket required.
This event is free, but booking is required
For more information, please contact us