Greyhound Bridge Lancaster
Lancaster's Greyhound Bridge has reopened to traffic following major maintenance work.
We're still completing the work on Greyhound Bridge, so there will be some lane closures at off-peak times.
The new bus lane is also still being finished and is not currently in use. The other two lanes over the bridge are for general use.
The bus-only lane on the northbound side will run from the bus stop on Cable Street south of the river and across Greyhound Bridge, before merging with general traffic again north of the river on Morecambe Road. Enforcement cameras will be introduced at a later date.
Further work is due to begin in May 2019 to finish painting the bridge. The bridge will be kept fully open while this takes place, with only some short-term off-peak lane closures being needed to allow equipment and materials to be delivered.
About the scheme
Major maintenance works concluded in October 2018 ensuring Lancaster's Greyhound Bridge retains the strength to carry big HGVs.
The work comprised replacement or renewal of a number of features including:
Installation and maintenance of temporary traffic management
Concrete repairs, including installation of galvanic cathodic protection and, recasting of large areas at the joint positions
Replacement of buried joints
Replacement of expansion joints
Repainting of parapet, piers and superstructure
Deck waterproofing
Carriageway and footway resurfacing
Maintenance repairs to two adjacent bridges and a sign gantry
About the bridge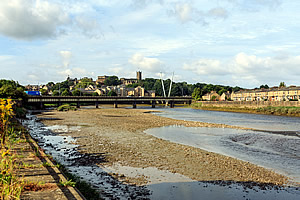 Greyhound Bridge carries the A683 (Greyhound Bridge Road) over the River Lune.
It was constructed in 1911 as a railway viaduct and converted to a road bridge in 1972 with the addition of a reinforced concrete deck on top of the original steel construction.
It has 9 spans, 8 piers and is 204.3m long and 12.66m wide.