Fishergate Central Gateway project
Preston City Centre has recently benefited from a project to improve Fishergate and Corporation Street thanks to funding from the European Regional Development Fund (ERDF), the Growth Deal via the Lancashire Enterprise Partnership, and our own investment.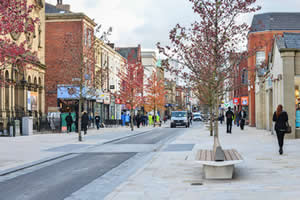 The new look city centre has now become a space where pedestrians and vehicles have equal priority with less clutter, wider pavements, and no traffic lights.
By improving the city centre we hope to attract new business and investment from the private sector and this is a key location as part of the Preston, South Ribble and Lancashire City Deal. 
Take a look at our video of how it was transformed or view the before and after photos on the City Deal website.
The improvements run from the Railway Station Bridge right along Fishergate to the Minster on Church Street.
Additional improvements 
Improvements have been made along Lancaster Road leading towards the bus station, to better link the two city centre transport hubs.  The improvements include new pavements, lighting, benches, bins and a new road surface. Improvements are also being made to Cannon Street in addition to enhancements to the Winckley Square area thanks to funding from the Heritage Lottery Fund.
Traffic changes
Traffic measures are in place to help reduce congestion in Preston city centre. From Monday 6th 2016 November there will be camera enforcement in operation along Fishergate between Mount Street and Corporation Street (between 11am and 6pm). Cameras will also be enforcing the no right turn from Butler Street (24/7). Extra signs have been put up to ensure you are aware of the bus lanes.
This is being introduced in an attempt to reduce congestion in the city centre and anyone caught on camera could face a penalty charge. Please be aware - we don't want you to get caught out. 
'Give Way' introduced on Fishergate
New Give Way markings are being trialled on one of Preston's main shopping streets, to help to reduce queuing at peak times.
People travelling along Fishergate, towards the railway station will now need to give way at the junction with Butler Street. 

Markings have been put on the road and temporary signing has been installed. 
The changes have been made on a trial basis, to reduce queues at certain times along Butler Street for people leaving the railway station and the Fishergate shopping centre car park.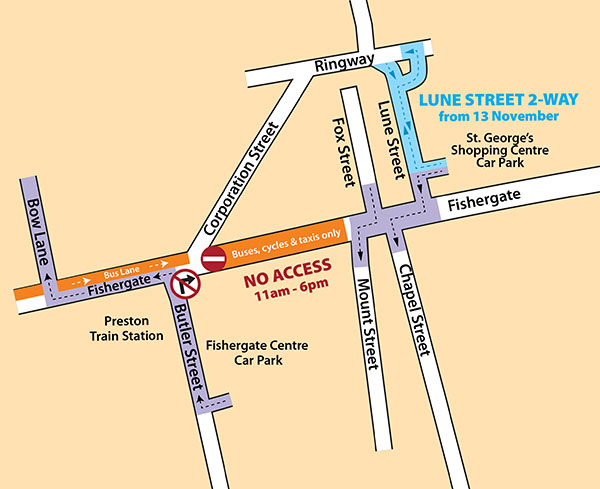 Lune Street
Changes have also been made to Lune Street and came into effect on Monday 13 November 2017.
Vehicles leaving St George's Shopping Centre car park are able to exit by turning right out of the car park down Lune Street and onto Ringway, or turn left as usual to exit the city centre via Chapel Street.
Mount Street, Garden Street, and Theatre Street
As part of this work, the one-way traffic on Mount St has been reversed, allowing traffic to travel away from Fishergate.
Garden Street has also become one-way from Mount Street to Winckley Square.
The existing parking for blue badge holders on Theatre Street has been relocated to Fox Street.