Improving Preston's main shopping street
The new look city centre has now become a space where pedestrians and vehicles have equal priority with less clutter, wider pavements, and no traffic lights.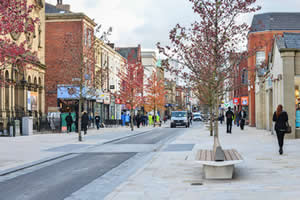 By improving the city centre we hope to attract new business and investment from the private sector.
Preston City Centre has benefited from a project to improve Fishergate and Corporation Street thanks to funding from the European Regional Development Fund (ERDF), the Growth Deal via the Lancashire Enterprise Partnership, and our own investment.
Improvements have been made along Lancaster Road leading towards the bus station, to better link the two city centre transport hubs.  This includes new pavements, lighting, benches, bins and a new road surface. Improvements have also been made to Cannon Street.
Reducing congestion
Measures are in place to help reduce congestion in Preston city centre. Camera enforcement is in operation along Fishergate, between Mount Street and Corporation Street (between 11am and 6pm).
Cameras also enforce the no right turn from Butler Street (24/7).
Extra signs have been put up to ensure people are aware of the bus lanes.
Anyone caught on camera could face a penalty charge.  We're happy if we don't make a penny from these cameras, as it means that people are doing the right thing.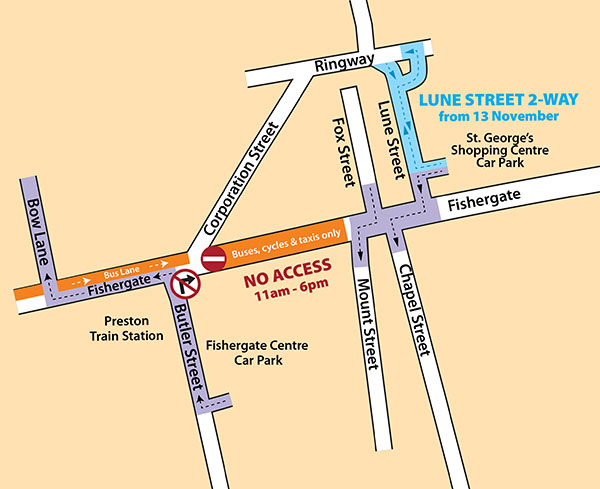 Better access for shoppers
Since 13 November 2017, vehicles leaving St George's Shopping Centre car park have been able to turning right out of the car park onto Lune Street towards Ringway, or turn left as usual to exit the city centre via Chapel Street.
Other related changes
As part of this work, the one-way traffic on Mount St was reversed, allowing traffic to travel away from Fishergate.
Garden Street has also become one-way from Mount Street to Winckley Square.
Parking for Blue Badge holders on Theatre Street was relocated to Fox Street.