Testing for businesses
Businesses of all sizes across Lancashire, where staff cannot work from home during lockdown, can now access workplace testing for employees not showing symptoms.
Setting up your testing area
Layout and storage
This will depend on the size and nature of your workplace setting but here are some key layout requirements:
The test area flooring must be

 

non-porous

 

and the test site cleanable with the approved cleaning product
The test area must be

 

well lit

 

and have

 

good airflow

 

with no recirculation of air
The ambient

 

temperature should be 15-30°C

 

for the lateral flow devices to operate and

 

2-30°C for storing them
The registration desk should be at the first point where an employee being tested would enter the test area
A

 

one-way direction of travel

 

for employees being tested should ideally be in operation, unless you are completing single tests at a time. If not possible, enough room should be provided for individuals being tested to exit the room whilst maintaining social distance
The test subject chairs in the swabbing bay should be minimum of 2m apart
Each swabbing desk must have a processing desk close by – approximately 1m away. A recording desk should be located close by.
There should be a clear division between swabbing and processing area. This should be clearly set out. Individuals being tested should not enter the processing area.
You can view information on waste disposal on this website as well as in the

 

Standard Operating Procedure (SOP)

 (PDF 1.69 MB)

.
Make sure the area has good signage - here are

 

some templates you may find useful

 

(PDF 1.69 MB)
This is the usual best practice model: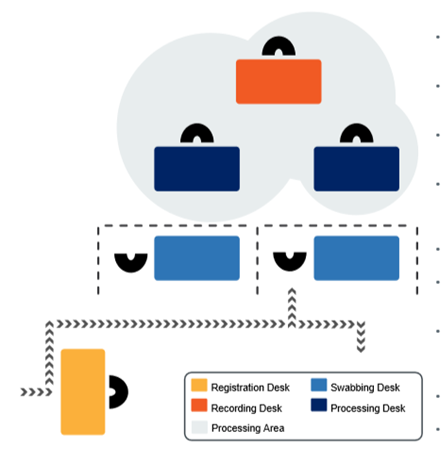 There are a number of test site set ups that we can provide you with.  Please email the mailbox: masstestingservice@Lancashire.gov.uk if you are a large employer and require this information.
How the process works
This is a simple process which usually takes about 45 minutes per test.  You can do more than one test at a time in your test area, as long as you take measures to ensure accuracy and maintain testing standards. 
A swab (similar to a big cotton bud) is used to take a sample from the throat and nose.  It can be uncomfortable for a few moments, but it does not hurt, and only takes seconds.
Testing process
Typically takes around 45 minutes
>
>
>
>
>
>
>
Person being tested
Arrive and go to the registration desk
Get signed in and given the swab kit
Go to swabbing area and administer the swab
Clean the area and hand over the swab sample
Leave the test site
Receive the result and act on findings
 
 
 
Help available where needed
 
 
Site staff
Ensure safety e.g. social distancing
Provide help where needed
Guide person where to go
 
 
 
Testing staff
 
 
 
Receive the swab sample from the employee
Carry out the test on the swab sample
Read result and upload the findings
Page 4 of 9