Xena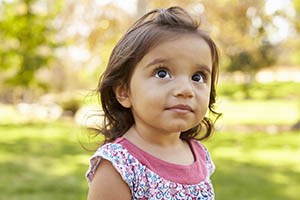 Xena is a 20-month-old little girl of mixed heritage (white British/unknown Asian) who has been with foster carers since birth. Her mother has a chaotic lifestyle which includes drug use and prostitution, which has led to Xena's three older siblings also being removed from her care.
There is a level of uncertainty about Xena's development. She may have Foetal Alcohol Syndrome Disorder, but she is too young to be diagnosed. We have been trying to find Xena her forever family for the last 16 months without success. Uncertainty about her long term prognosis has been an obstacle in finding Xena a permanent home. However, if she is diagnosed with FASD, help, support and the stability of a loving home life will have a hugely positive impact on her future development. 
More about the adoption support available to you and your family.
This is a real-life case study, but we have changed the name and image of the child to protect their identity.