Summer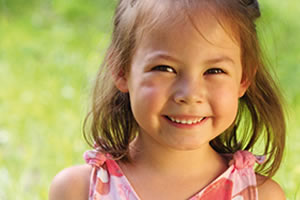 Summer was a confident and assertive five year old little girl, full of life and personality when we found her an adoptive family.
She needed a permanent family as her birth mother and father had a chaotic lifestyle including drug misuse and domestic violence. She has five elder half siblings who were all living in a stable and happy foster placement.
Summer enjoyed her foster home and her foster carer told us that she really enjoyed being outside and going for walks or playing in the garden.  Summer also loved animals and especially visiting farms and zoos. She also enjoyed baking cakes and watching children's television and films. Most of all though she enjoyed talking! About anything and everything! Her foster carer also said that Summer was an 'extremely loveable child' who enjoyed being cuddled and hugged.
The adoptive family that suited Summer were confident adopters with previous experience of caring for children. We felt that Summer needed adopters who were able to give her strong boundaries, clear guidance and were able to enjoy life with an outgoing and lively little girl who would give a lot back in return.
Summer started her local primary school in September 2012. She often didn't want to go to school though, preferring to stay at home! With gentle persuasion and being promised activities like going to Rainbows or going swimming after school she goes happily.
Summer was diagnosed with oligoarticular juvenile arthritis In January 2011. She attended Manchester Children's Hospital to keep an eye on this. Her consultant said that one in three children will still have this in adult life. Summer went to physiotherapy every couple of weeks to help with the condition. She always took this in her stride though and never let it stop her enjoying physical activities like playing on her scooter, hop scotch and hula hooping. Summer wears glasses due to astigmatism.
This is a real-life case study, but we have changed the name and image of the child to protect their identity.