Scott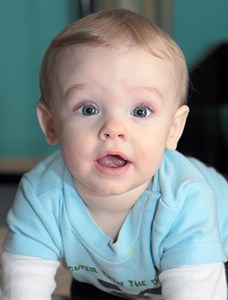 Scott is a 15-month-old happy and smiley baby boy with big blue eyes and blonde hair.
He has settled well into his current foster placement and is a happy and contented baby with a liking for physical affection from his carers.
Scott was born prematurely at 27 weeks and has multiple congenital abnormalities. Despite his issues, Scott continues to develop well. He is able to grasp with his hands and to roll on the floor, getting himself around without much difficulty.
We worked hard to find Scott his forever family here in Lancashire, but because of the lack of local adopters Scott was referred to the National Adoption Register and his details were sent to all national adoption agencies. Happily for Scott he has now been matched with a family who are going to adopt him.
More about the adoption support available to you and your family.
This is a real-life case study, but we have changed the name and image of the child to protect their identity.