Ryan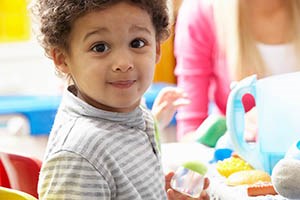 Ryan is a three-year old boy of mixed heritage who was placed with foster carers from birth. Both Ryan's birth parents have chaotic lifestyles which include substance misuse, mental health issues and domestic violence. We have been trying to find a family for Ryan for two years but so far have been unable to. During this period Ryan has been diagnosed with autism spectrum disorder (ASD), which has reduced the pool of potential adopters.
Despite the obvious challenges Ryan has had to face in his short life so far, with time, patience and a bit of creative thinking it's entirely possible to interact with him on his terms and discover the wonderful loving little boy beneath the surface. Intensive family finding is ongoing to find Ryan his forever family, but if this proves unsuccessful he could go into long term fostering.
More about the adoption support available to you and your family.
This is a real-life case study, but we have changed the name and image of the child to protect their identity.