Nathan and Joseph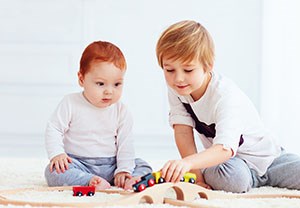 Three-and-a-half year-old Nathan and his half-brother Joseph (11 months) are affectionate and loving and they need adopters who mirror these qualities.
Their personalities
Nathan has light brown hair with natural blonde highlights and blue eyes. He is a very happy, lovable little boy. He can be stubborn when he gets tired or upset, but generally he has a lovely personality. Nathan likes Thomas the Tank Engine, Teletubbies, PAW  Patrol and his Toot Toot cars. He has a healthy appetite, his favourite foods include pasta and cheese.
Joseph has auburn hair and blue eyes framed by huge lashes. He is a lovely, smiley baby who responds to people smiling and chatting to him. Joseph has begun weaning and he likes to eat sweet potato and mashed up chicken and vegetables as well as apple puree. He enjoys lots of cuddles and likes to be held close by his carers. He gets fidgety around 7pm when he's ready for bed, but once he's settled he sleeps through the night until 6 or 7am.
Background and History
Nathan and Joseph came into our care because there were concerns they were being neglected and their home was in poor condition. Their mum was also in an abusive relationship.
Education
Nathan goes to nursery part-time, where he has settled in well and enjoys the experience. Although, sometimes he doesn't like to share with other children and can be a bit bossy with them. Nursery is also helping him with his speech.
Joseph's foster carers stimulate him through singing and talking and he has an impressive collection of toys!
Health and Development
Nathan has an inhaler, although he doesn't need to use it all the time, it is administered as and when he needs it. He also regularly sees an ophthalmologist because he has a squint in one eye. Nathan has delayed development in terms of speech, dexterity, and movement and co-ordination of his body, however this has improved significantly whilst he has been in foster care. He sees a paediatrician for a check-up every six months.
Joseph's physical development is a little behind what it should be, but he is seeing a physiotherapist every fortnight to help him along with his movement and co-ordination.
The boys have contact plans in place, to have annual indirect contact with their birth parents via the mailbox.
This is a real-life case study, but we have changed the names and image of the children to protect their identities.