Michael and Christina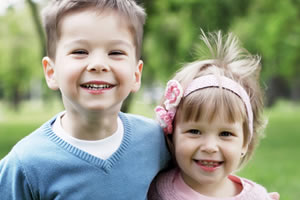 Michael and Christina were aged nearly six and two and a half, when we found them an adoptive family where they could stay together. They are full brother and sister.
Two different foster carers looked after them for about 16 months. They were separated at first unfortunately until we found a foster home where they could live together. They were in this placement for 12 months.  Michael and Christina had one half-sibling who lived with a different foster carer. 
An adoptive family was best for Michael and Christina as their birth parents had a history of domestic violence, drug and illicit substance misuse. Concerns were also raised about the home conditions the children were living in.
Michael was described as being a very affectionate boy, who loved being cuddled and enjoyed receiving compliments and praise. He liked to read, watch DVDs, play football and go on the computer.
Christina liked to play with her dolls and pram. She liked interaction with other children and enjoyed going to nursery. She was very close to Michael and often went to find him at home. Both children enjoyed school and had a special relationship with each other.
Michael and Christina were matched with a loving and caring adoptive family that offered them guidance, consistency, routine, praise and reward. This suited Michael and Christina as they responded well to boundaries and routine as long as they were clear and consistent. They related well to others and were healthy.
They remained in indirect contact with their birth family via the mailbox.  
This is a real-life case study, but we have changed the names and image of the children to protect their identities.