Harry and Taylor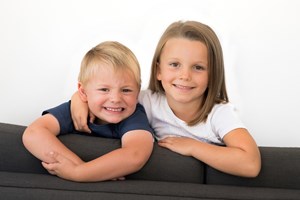 This brother and sister currently live together with foster carers.
Their personalities
Taylor is a bubbly and friendly seven-year-old little girl, she is affectionate and caring with lots of love to give. She can be quite a deep thinker and goes quiet when she's in an uncertain situation. Taylor loves her dolls house and has certain special teddies and a special cushion which she finds comfort in.  
Taylor's perfect family day would be having breakfast, chatting, going for a walk and taking her scooter, having lunch somewhere nice and sitting with her family watching a movie or just being together.
Taylor understands that her plan is adoption and she has said that she would, 'love to be someone's sweetheart!'
Harry is a fun four-year-old little boy who loves cars and sleeping! He enjoys playing with his toy garage and has a strong bond with his sister. Taylor sometimes sees him as her annoying little brother, but she has a good relationship with him.
Harry's ideal day out would be heading to the park or beach with a bag full of sporting equipment and playing with his family.
Harry has a basic understanding that his plan is adoption and has said that he would like, 'a happy family where there is no shouting, swearing or smacking with good food and toys to play with'. 
Background and history
The children's mother suffered from post-natal depression after Taylor was born and this affected her ability to bond with her daughter. The children lived in an environment of domestic abuse and were over-chastised and cruelly treated. The children have been through lots of house moves as they went to live with other family members before moving into foster care. They had no boundaries, so their behaviour had deteriorated and their relationship with each other had suffered.
The children are now settled in foster care and have responded so well to family life. They just love the little things that being in a settled family has brought them. They can express their views on adoption and be involved in finding the right family for them.
Education
Taylor loves going to school, she is making good progress and has developed a good friendship group. She does need a little extra help with focusing on a task and can become easily distracted. She puts a lot of time and effort into her homework, and if she needs help she thrives on the one-to-one contact with her carers.
Harry loves going to nursery and has made lots of friends there. He loves doing anything active or sporty and being outdoors.
Health and development
Taylor is healthy and active and is very proud that she has learnt about healthy eating, looking after her teeth and keeping herself clean. She has no health issues, but she may need some emotional support throughout life. Taylor is well behaved and has good manners.
Harry is fit and healthy and does not have any health concerns. Due to a poor start in life, he needs firm boundaries and responds really well to this. He has lovely manners and likes to be praised.
The children have contact plans in place, to have annual indirect contact with their birth parents via the mailbox.
This is a real-life case study, but we have changed the names and image of the children to protect their identities.