Ella and Sam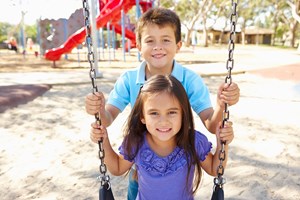 Sam and Ella are siblings aged six and four.
Their Personalities
Sam is a sensitive boy who likes routine.  He loves colouring-in and anything 'Spiderman' and playing with his Lego. Sam is the more defiant of the two but is learning to follow rules. 
Ella is a 'girly' girl who loves singing, dancing, having her hair done and anything 'Frozen'. She also likes colouring and making jigsaws. Sam and Ella have a good relationship. They are typical siblings who play well together but also have disagreements at times.
Background and History
The children, who are half-siblings, come from a family where there have been issues with alcohol, drug misuse and domestic violence. Sam's birth father has not been involved in his life. Ella's father has issues with alcohol. Their mother has been involved in numerous domestic violence relationships.  It is thought that mother's partner was the perpetrator of unexplained bruising and harm to Sam, but she did not believe or accept this. It is thought that Ella was not injured or harmed. Mother was thought to be unable to provide consistent care of, or to prioritise the children's needs to ensure their welfare and safety.
Education
Sam enjoys attending his local community school.  He thrives on the routine it provides him and his school says that he has good cognitive skills and a good level of understanding.  He is a sociable boy who enjoys playing and taking part in after school activities.
Ella currently attends nursery three mornings a week, which she enjoys and is making good progress.
Health and Development
Sam has some global development delay and has been diagnosed with hypermobility. There is a possibility of ADHD/Autism although this has not yet been diagnosed. This means he can sometimes present with some challenging behaviours. He has previously been known to soil when distressed or unsettled and did have a fear of showering, but this has stopped now he is settled. Sam's health and development overall have shown significant improvement since being in foster care.
Ella is fit and healthy and meeting all her developmental milestones.
Sam and Ella have now found their forever family and have been adopted together.
This is a real-life case study, but we have changed the names and image of the children to protect their identities.