Adam and Maya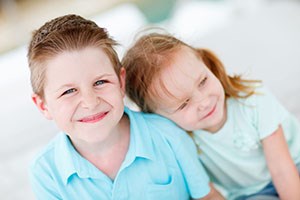 Adam is seven years old and his sister Maya is six. They currently live together with foster carers.  
Their personalities
Adam has short, light brown hair and blue eyes and a wide smile. He is very active and likes to take part in lots of different sports.
Adam is strong-willed and needs boundaries. When he was first placed with carers he would have outbursts and refuse to co-operate, but now he has settled his behaviour has greatly improved. Adam really wants to please and be liked and sometimes he can get over-excited, but most of the time he is relaxed.
Maya has reddish-brown hair, a pale complexion and green eyes. She is very active, full of energy and fun.
Maya was very bossy towards Adam, which is thought to be the result of her taking on a caring role when she lived with her dad. She used to take things that didn't belong to her, but through a lot of patience and support, her carers have made her understand this is wrong and her behaviour has greatly improved. 
Both children have responded well to the clear routines and boundaries their carers have put in place. They both have a great sense of humour and enjoy a laugh. They have good relationships with their carers, enjoying giving and receiving cuddles.
Interests
When at home, Adam enjoys playing computer games and playing with his toy cars. He also likes creative play with his sister, going for walks and trips to the park.
Maya is very active and likes creative play, trips out to the park and going for walks. She also enjoys dressing up and girly time.
Both children are sporty, they have achieved various grades in Jujitsu; and they enjoy attending sports clubs during school holidays. They have been swimming and while on holiday have enjoyed archery, laser tag and other outdoor activities.
Background and history
Adam and Maya had been living with their dad since they were toddlers, but there were concerns that they were being subject to on-going issues of neglect and emotional abuse. The children have not had any regular contact with their birth mum. The children have half-siblings who been placed with, or are waiting for, their forever families.
Education
Adam is in year three at school however, he spends most of his time in year two as he is academically behind compared to other children of his age. His writing, reading and maths skills are currently at year one level. Adam receives one-to-one support to keep him on track as he is easily distracted as well as educationally behind.
Maya enjoys school and has a developed a friendship group. She was behind with her reading, writing and maths skills, but is now working at an age-expected level and achieves at a similar level to her classmates. However, because her learning was delayed she is at the lower end of the scale for year one and is a full school term behind. Maya also receives one-to-one support.
Health and development
Adam has learning difficulties and is developmentally behind, he remains under assessment by CAMHS (Child and Adolescent Mental Health Services) however, as yet he has not been diagnosed with any condition.
Maya has no known health issues.
The children's wishes
Adam says, 'I would like a new mummy and daddy to look after me and my sister and I want to stay in touch with my foster carers and dad'.
Maya says, ' I will miss daddy, but really I want a new forever mummy and daddy. I would like them to be fun and caring and nice; I also wish that they have a big house so I can have a bedroom of my own so I don't have to share with my brother. I also want to stay in touch with my dad and foster carers'.
This is a real-life case study, but we have changed the names and image of the children to protect their identities.