Samantha and David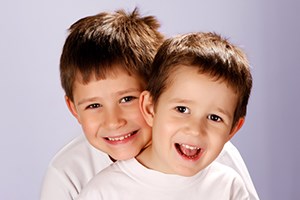 Samantha and David have been married for 23 years and have two birth children. They are foster parents and have also adopted two boys Alex eight and Andrew six. Alex and Andrew came to them as foster babies – Andrew was just two days old.
Samantha said: "We fell in love with them. They are both lovely affectionate boys. They both had fairly complex backgrounds and Andrew has additional needs. As they grew up with us, we realised that it was looking unlikely that they were going to be adopted. So we put in a request.
"They have a really strong bond together. They are like brothers. Alex looks out for Andrew at school and they are always together. My husband built a triple bunk bed in one room for our three boys and Alex and Andrew are always getting into each other's beds and snuggling.
"It became clear to us that Andrew had some additional needs when he was a toddler. We are still working this out. He has a paediatrician and we are working with the school to try and get a diagnosis for him. We think he may have ADHD but we don't know yet.
"The thing is, we have a lot of support from the school, social workers and the paediatrician, so together I am confident that things will work out and that Andrew will get his diagnosis and any subsequent medication he may need and that will help him move on.
"I feel quite lucky to have the support network I do. Andrew has always been more inquisitive, he had some behaviour issues where he was getting angry, but we work through these things.
"It's a big step to adopt, but for me – you don't know the difference between our children, they are all our children. I think if you are determined to become a good parent then you will find a way to make that child's life better. The help and support is there for you."