Neil and Harris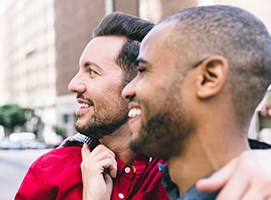 We had originally approached our own local authority and were given muted approval, but gently discouraged from starting the process at that time. They suggested that a larger authority may suit our needs better as we were a same sex mixed heritage couple. In lots of ways this ended up being the best thing for us, as we approached Lancashire County Council some months later and were warmly welcomed from the outset.
The process
Lancashire County Council were very open about the whole process both the positives and the negatives, then after an initial assessment we were duly assigned our own social worker. We attended a three-day induction course which gave us a more detailed idea of why children came in to care and how, as their forever family, we could provide the support and love they needed.
The following months were filled with form filling and meetings, which sounds much worse than it felt at the time, it's quite therapeutic to talk through your past and your reasons for wanting to adopt a child.
Support network
Our support network of close friends who came with us on the journey grew even closer. Our social worker was brilliant, friendly but professional and we respected her for being able to be close enough to us to provide the support we needed, but objective enough to work towards an approval at panel.
We met other adopters and foster carers along the way who are now part of our circle of friends and we were lucky enough to be matched with our son within a year of our initial application.
We are still in touch with all the team at Lancashire County Council and the post adoption support team are in regular contact to inform us of up and coming events and training courses.
Our life changing year
Our life has changed so much since we became parents; priorities change when you have a child, but that's the same for any new family. The first few days were hard work, having to become full time parents overnight is tough, but it gets easier and there are always those moments which remind you why you chose to adopt - whether it's a smile a hug or a giggle.
It's been a year since our son arrived, we are about to celebrate his second birthday and his character is growing every day. He's a bright, confident and happy toddler who makes us laugh with his cheeky smile. It feels like he has been with us forever and we are looking forward to seeing him flourish even further in the future.