David and Katy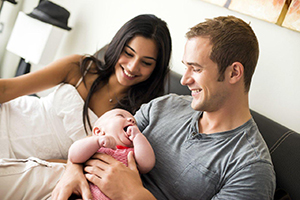 We knew from the start that we wanted to adopt a baby through a Best for Baby concurrency placement. We liked the idea that Best for Baby placements aim to ensure that babies and young children will only ever move between two families – birth family and the foster/adoptive family - meaning they will have less upheaval and will benefit from a more secure start in life. We feel Best for Baby is an amazing scheme, because it puts the needs of the baby or young child first. It made perfect sense to us to go down this route, it felt right for our family and we wanted to be a part of it.
Initial nerves
We knew some parts of concurrency would be tough - especially the uncertainty of whether we would be able to adopt the child or they would move back to their birth family - plus we had our five-year-old birth daughter's feelings and vulnerabilities to consider. However, as a family we completely rose to the challenge and felt extremely privileged to be given the responsibility to look after someone else's child. Our five-year-old amazed us with her resilience and maturity in light of what we were taking on. We were all so proud to be Best for Baby carers and felt that we were making a real difference to a child's life.
Our first Best for Baby placement
In our first Best for Baby placement we had a tiny, precious baby girl called Poppy placed in our care. We met Poppy's birth mum once, prior to her being born, and again in the hospital birthing suite. Poppy was our responsibility from when she was about six-hours old, but we only cared for her for a short while as she was able to return to her birth family. Poppy's time with us was brief, yet we had made a real connection with her and it was heart-wrenching to say goodbye. Nonetheless, after a period of reflection, our overwhelming feeling was that we had helped make a fairy tale come true. What a privilege to be part of that story!
Our second placement and meeting birth family
After two or three months we felt ready to embark on our next Best for Baby placement, and had a beautiful newborn boy called Harry placed in our care.
We took Harry to have contact with his birth family two to three times a week. Meeting birth family for the first time was nerve-wracking for us, but we quickly realised that they were just as nervous as we were, and we gently felt our way through this strange situation together. They had had a tough life and our hearts reached out to them to make contact times as positive as possible. We built up a really good relationship with birth family, far beyond what we could have ever wished for.
Harry wasn't able to return to his birth family and therefore we went on to adopt him. We thought it was a real benefit to us having developed a good relationship with Harry's birth family from the start. Because of the conversations we had, the information we learnt, the gifts exchanged, the diary we kept, and the photographs we took, we now have a priceless gift to give our son when he grows up.
Best for Baby currency turned our lives upside down in the most wonderful way. There are still some uncertainties regarding Harry's possible future learning needs, but we truly wouldn't change any part of our roller-coaster journey.