Christopher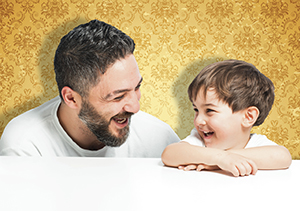 I have wanted to be a dad for as long as I can remember and almost came to a point where I ruled this out. Luckily, my friends adopted two amazing boys and being part of their lives as they began the journey through adoption and seeing how they grew as a family led to a conversation where we decided it would be a great option for me. 
I enquired about adopting as a single parent and was quickly put on the path to adopt myself. The training and initial work with my social worker not only confirmed that it was definitely the right decision, but also that my family and friends were hugely supportive and that any child would be loved (whilst I would always have a network of support.) 
A year ago I was matched with four-year-old Sean and the day we met was a moment that will remain in my head and heart forever! 
I think it is perfect for Sean that I am a single carer, as I know that I can meet his needs and, after a period of uncertainty, Sean has only had to bond with me and now my family and friends. We have a lot of fun together and are 'the best team ever!'  I am not alone on my adoption journey as I have a wide circle of friends, a very supportive family, and we have just finished work with a life-story therapist who has really helped Sean and I understand his background. 
I have been given lots of information about Sean's past life and the decisions that were made throughout.  I feel that I have been lucky to meet everyone along this journey and as such will always be able to be open with Sean and give him first-hand accounts about the people on our journey together. Although I found some of the meetings upsetting, I feel it made it much more 'real' than relaying things that I have read in his profile. 
Sean means more to me than anything I thought ever possible – even writing this has made me emotional thinking about the huge impact we have had on each other's lives in such a short space of time. When I entered this process I knew that I wanted to be a parent and all of those around me had encouraged me, agreeing that it was the right thing to do. None of us could ever imagine that I would be matched with someone so perfect for me. A phrase often said by anyone who knows me is that he is like a jigsaw piece that we were both waiting to put together. 
Not only has Sean had a hugely positive impact on my life, he has also impacted the lives of those around me.  His humour, character, infectious personality and the happiness he shows (even when sometimes I know that we need a hug because he is thinking or worrying) have brought light into the lives of those around me. He truly will be loved by many people. 
When we talk about his past we say that others have had times when they were lucky enough to share part of his life – but now I am the luckiest as I will share everything else!