Lancashire Youth Council General Election Project 2015
26/05/2015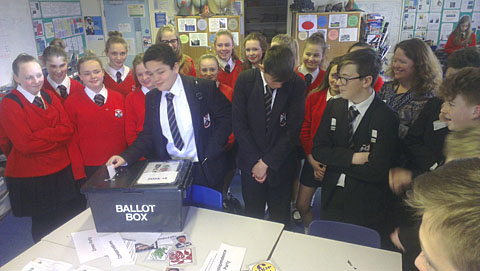 Lancashire Youth Council part of Lancashire's Wellbeing, prevention and Early help Service ran a peer led project to educate as many young people across Lancashire about politics, the general election, who the leaders are of the 5 main parties in Lancashire, what the parties stand for, their manifesto's and the voting process.
This then ending with an actual ballot to mimic as closely as possible the voting process, using a ballot paper and ballot box.
The project composed of a planned session which covered a four week period up to the actual general election day, the project consisted of a session that fitted a school lesson timescale of 45-60 mins in length.
Within the session the young people and staff delivered interactive activities including an agree/disagree timeline debate, a card matching game for the parties and leaders, a quiz which helped young people see what they valued as important and which political party they most agreed with.
The target was to work with approximately 1000 young people across all 12 districts of Lancashire, within schools, youth groups and clubs. The actual results were an amazing 12,000 votes from across all of Lancashire.  
The project showed significant evidence form the couple of thousand recorded outcomes collated from the sessions, that we made a significant difference to the learning of young people, and also influenced many on their decision on who they would have voted for prior to the workshop.
The actual results generally do not reflect the actual General Election results as from the 12 districts of Lancashire young people would have elected 10 districts Labour, one Green and the other UKIP.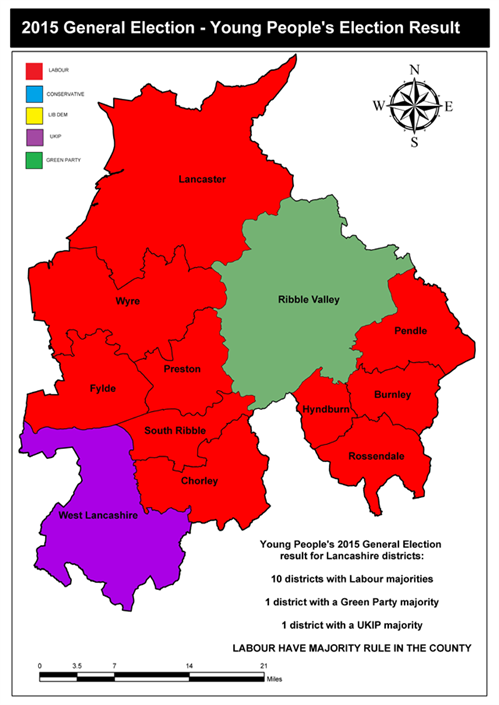 Share: