JSNA events
JSNA showcase 2017
The joint strategic needs assessment showcase took place on Wednesday 12 July at County Hall, Preston, and was attended by over 100 partners from a range of sectors. The event was opened by Lancashire's director of public health and wellbeing, Dr Sakthi Karunanithi and we also welcomed our guest speaker Kerry Galloway from Healthwatch Lancashire and Healthwatch Blackpool.
There was feedback and interactive demonstrations on the neighbourhood intelligence and working-age population JSNAs, plus discussions on how to take these projects forward. Kerry's presentation looked at the role of Healthwatch and how the organisation is using the JSNA in its work. All the presentations were well received and are available to view below. Please also visit our neighbourhood intelligence and working-age population pages for further information around these projects.
Presentations
If you have any comments, please contact us at: businessintelligence.jsna@lancashire.gov.uk
Working-age population prioritisation event
The WAP prioritisation event took place on Tuesday 25 April at County Hall, Preston. Thirty four stakeholders attended, giving their valuable insight and expertise on the emerging recommendations and providing feedback on how the findings should be presented.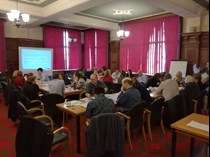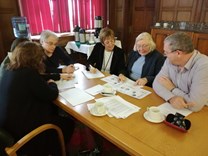 The recommendations focus around healthy people, with an emphasis on healthy lifestyles, skills development, support for long-term conditions and health in the workplace.
The final report is available on the working-age population page.
JSNA showcase 2016
The joint strategic needs assessment (JSNA) showcase took place on Monday 17 October at County Hall, Preston. We welcomed 115 partners to the event and had an informative morning showcasing the new Lancashire Insight webpages, as well as developing the working-age population JSNA and the neighbourhood intelligence JSNA.
Page updated July 2017