Infant mortality
Summary
Infant mortality is an indicator of the general health of an entire population. It reflects the relationship between causes of infant mortality and upstream determinants of population health such as economic, social and environmental conditions. Deaths occurring during the first 28 days of life (the neonatal period) in particular, are considered to reflect the health and care of both mother and newborn.
Reducing infant mortality overall and the gap between the richest and poorest groups are part of the Government's strategy for public health (Health Lives, Healthy People: Our Strategy for Public Health November 2010).
Key facts
Lancashire-12 area's infant mortality rate is significantly worse than the England rate: 4.6 per 1,000 live births compared to England's rate of 3.9 per 1,000 live births.
According to the most recent published figures (2013-15), across the Lancashire-14 area, in Burnley, Chorley, Blackpool and Pendle the infant mortality rate is significantly worse than the national average. It is, however, important to note that fluctuations within these rates are to be expected due to the small number of infant deaths involved.
During the period 2004-06 to 2013-15, in line with the national trend, the Lancashire-12 area, overall, as well as ten districts within the Lancashire-14 area have experienced a reduction in their infant mortality rate. Lancashire-12's infant mortality rate fell by 22%, which is same as the reduction in the England rate.
Preston experienced the greatest reduction in infant mortality rate, during the period 2004-06 to 2013-15.
Lancashire-12's perinatal mortality rate (2012-2014) is not significantly different from the England rate.
Across the Lancashire-14 area, Blackpool's perinatal mortality rate (2012-2014) is significantly higher than the England rate.
Lancashire-12 area's poor performance on a range of indicators of the health of pregnant women and babies, and the impact this has on the families and children for the rest of their lives, means that partners in the area should ensure that improving maternal and infant health is a priority. Joint working at a strategic level would maximise improvements in this area.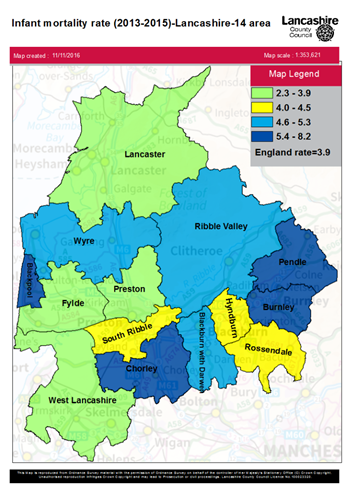 The safer sleep for baby campaign aims to raise awareness of safer sleeping for babies and focuses on six easy steps for parents/carers to follow to make sleep safer, and potentially reduce the risk of Sudden Infant Death Syndrome (cot death).
Monitoring infant deaths remains a priority and the Child Death Overview Panel 2013-2014 (PDF 700 KB) annual report provides information on trends and patterns in the deaths reviewed in the last reporting year (2013-14) and on all deaths since the panel began in 2008, across Lancashire-14. 
For further information the National Child and Maternal Health Intelligence Network provides detailed infant mortality and stillbirth profiles at a local authority and clinical commissioning group level.
Page updated November 2016