Sector 'K'
Financial and insurance activities
Introduction
This article is one of a series that considers the employment and economic value of various sectors of the Lancashire economy. Please see the sector profiles introduction page for details of where we derive the employment and gross value added results, plus how we identify various organisations in Lancashire as belonging to particular sectors. 
Financial and insurance activities is generally regarded as a high value added sector with employment skewed towards professional, managerial and other white collar jobs. Activities include banking and other forms of finance such as building societies, venture capital, financial leasing, activities of investment trusts, life insurance, pension funding and risk and damage evaluation. The sector encompasses the standard industrial classification codes 64.10 to 66.30.
The economic value of finance and insurance activities
Gross Value Added (GVA) is generally regarded as the best measure of the sum of economic activity within an area. Local estimates of gross value added (GVA) are published by the Office for National Statistics that are split by various industrial sectors. The estimates of GVA for 2014 reveal that, finance and insurance accounted for £831 million which represented 3.0% of the total GVA figure for the broader Lancashire 14-authority area.
Employment
Table 1 Employment in finance and insurance activities, Lancashire (14 authorities), 2009 to 2014
| | |
| --- | --- |
| Year | Total employment |
| 2009 | 12,800 |
| 2010 | 11,900 |
| 2011 | 11,600 |
| 2012 | 10,300 |
| 2013 | 10,900 |
| 2014 | 10,600 |
Source ONS – Business Register Employment Survey
Employment in the financial services industry in the Lancashire-14 area amounted to around 10,600 in 2014, equivalent to 1.7% of total employment in the sub-region. This is a disappointing outturn given the sector's association with high value jobs, and the percentage is well below the 3.6% share that the sector has in Great Britain. The national representation is heavily skewed by the dominating presence of the City of London, Westminster and Tower Hamlets (includes the docklands area) that together account for 276,400, or 26.5% of all jobs in financial and insurance activities.
Of total financial services employment in the Lancashire area, 2,100 are based in Preston, with a further 1,800 in Fylde. .In contrast, the sector only provides limited employment opportunities in Rossendale, Ribble Valley, Hyndburn, Pendle and South Ribble districts.
Figure 1 Financial and insurance activities employment by district, 2014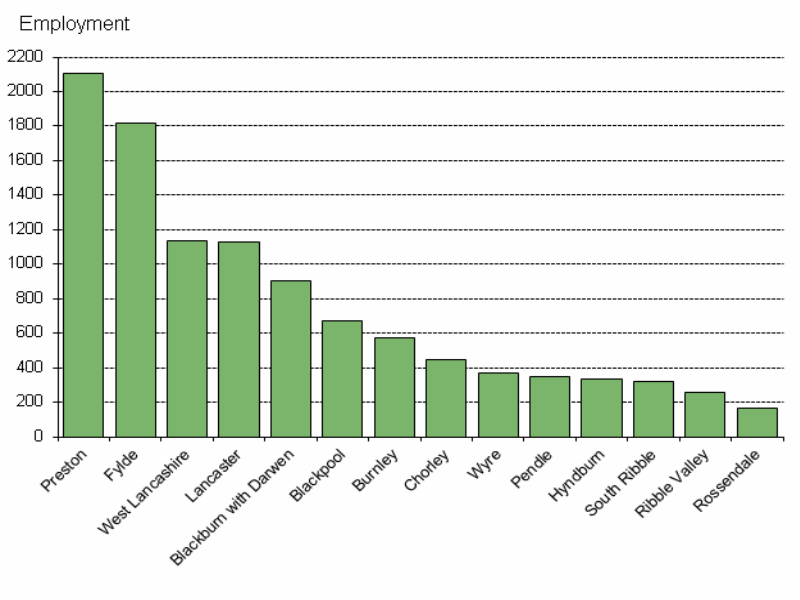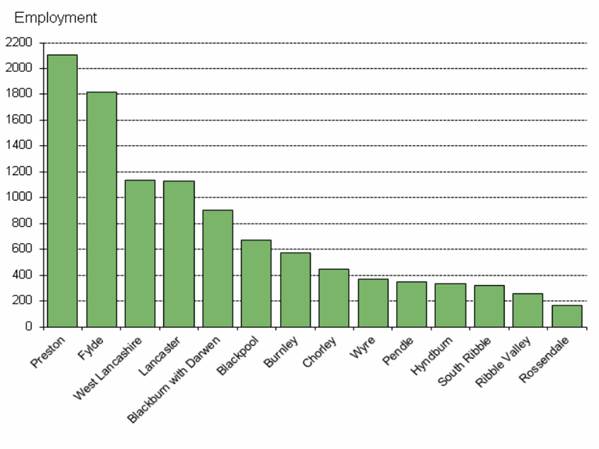 Source ONS – Business Register Employment Survey
In addition to the ubiquitous High Street banks and building societies, the local sector comprises a diverse range of organisations such as Guardian Financial Services in Lytham St. Annes, Chesnara, dealing in life assurance in Preston and Key Retirement Solutions of Preston providing equity release schemes.
The Co-operative Bank has its Business Customer Services section in Skelmersdale, whilst worth a mention are the two small mutual building societies that have their HQs in Lancashire. The Marsden Building Society is based in town centre Nelson, whilst the Chorley Building Society has its HQ on the outskirts of the town. A new entrant to the sector is Burnley Savings and Loans, a small organisation that received national publicity in 2012, and provides innovative savings and loans facilities to people and businesses in Burnley and the surrounding area. Enterprise Ventures Group Ld., in Preston, provides venture capital and loans to small businesses across England and Wales. 
Hargreave Hale in Blackpool, offers portfolio management, share dealing and fund management. Also in the town, Rowlands and Hames Ltd provides corporate and private clients with general insurance programmes and independent financial advice.
Fish Insurance in Preston offers a range of insurance policies for disabled users of manual and powered wheelchairs, mobility scooters, stair-lifts and wheelchair accessible vehicles. Fogarty's Insurance Services in Blackburn is an independent broker that provides both personal and commercial insurance.  Also in Blackburn is Haydock Finance that provides financial solutions for businesses, such as asset finance, property finance and commercial vehicle finance. Nearby in Darwen is Chase Templeton Ltd, a specialist company in health insurance and protection. True Bearing Ltd, near Chorley offers a range of financial planning services, whilst in Preston Profile Financial Solutions states that it offers independent financial advice.
General characteristics
Lancashire has never had an especially strong stake in the financial services industry, but this is not the case in the North West as a whole with Manchester well placed to offer the specialised services demanded by larger regional businesses and organisations. Locally, the sector is dominated by retail banking offering such services as savings, investment, portfolio management, consumer credit, mortgage and payment and advisory/brokerage services.
The demand for financial services is determined by demographic and savings trends, the functioning of capital markets and changing patterns of consumption, regulation, competition from new entrants, plus the burgeoning role of technology to support increasingly sophisticated and mobile customers.
As well as forcing changes in market structure, technology advances impact on the way financial services are provided and accessed. New technologies have lowered the cost of entry and turned many financial products into commodities, enabling providers such as supermarkets and other retailers to compete in new markets, often in partnership with major financial institutions. All this helps to redefine the roles of individual companies and relationships with their customers.
The economic downturn that started in 2008, brought in to question the over-reliance on market forces to regulate the functioning of financial systems. The slowdown affected the viability of certain institutions, and led to some rationalisation, but also to the breakup of some institutions e.g., the re-establishment of a TSB bank network in 2013. Further changes in branch networks are likely and more job upheavals in back-office functions are inevitable.
Page updated October 2015