Accrington Bus Station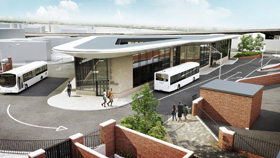 A new bus station in Accrington is one of the major elements of the Pennine Reach scheme. The new station, which will be located on the site of the former Crawshaw Street car park between Union Street and Blackburn road, will replace the existing sub-standard facility on Peel Street.
A detailed plan of the bus station is available to view showing the layout of the site. 
The new bus station will be manned during operational hours and will also be covered by a CCTV system. The station will also feature 11 bus bays and a range of electronic passenger display screen to provide up to date and, where available, real time information on bus services. Public toilets, including a disabled access toilet and baby changing facilities will also be available as well as a Changing Places facility. The will also be a manned travel desk to provide information and timetables for bus services in the area.
Current status of works
Construction on the new bus station commenced as planned at the start of February 2015. The facility is starting to take shape with major works to the roof, internal and external brickwork and glazing underway.
Pictures showing the progress of works can now be viewed.
Expected completion is currently anticipated to be 2 weeks later than originally planned due to the substantial impact that the weather has had on the works programme in late 2015. This puts the current anticipated completion as Mid May 2016. The contractor undertaking the works is still hopeful of completing by the end of April 2016, as previously programmed, as long as the weather improves in early 2016. The station is anticipated to be open towards the end of May allowing for staff training and ensuring the facility is fully functional before opening.